February 3, 2023
Work on the Pocatello Creek Booster Station continues through the winter. Crews are continuing to make pipe connections as weather permits. Work on the booster station is progressing with interior finishes, piping, and electrical.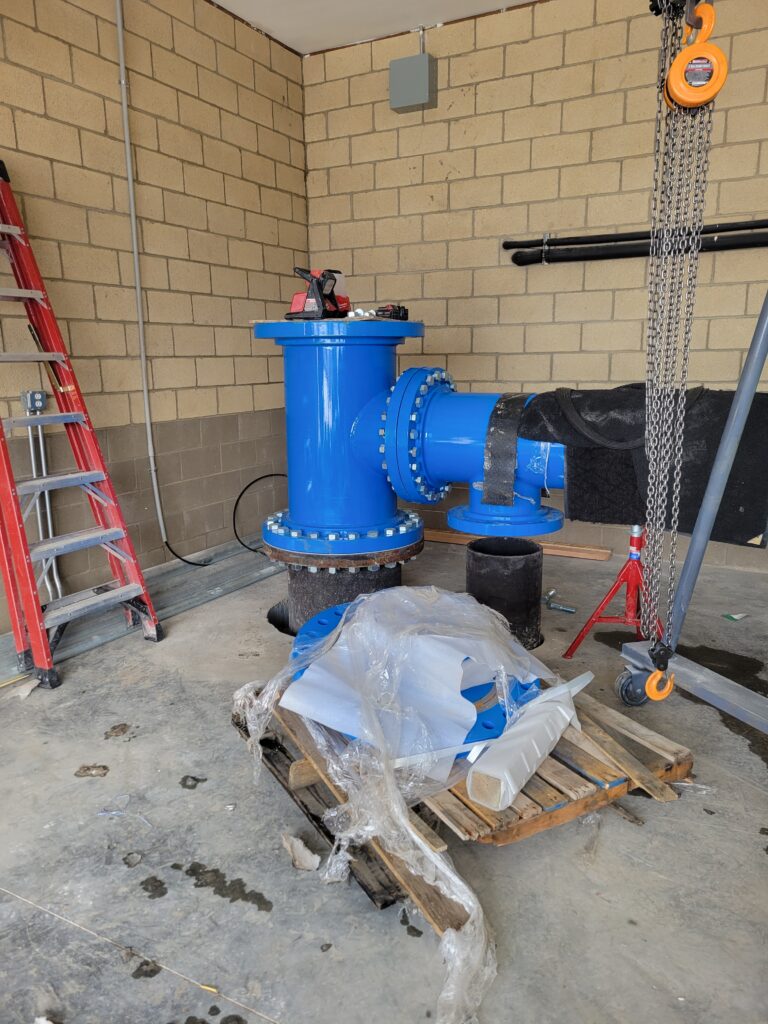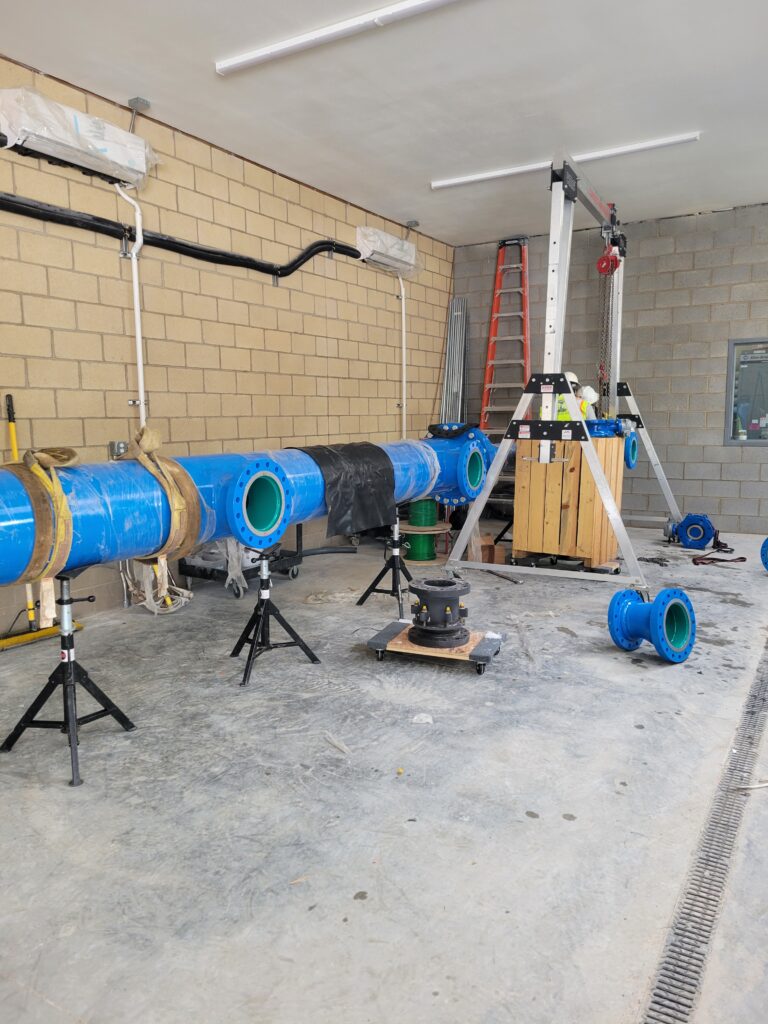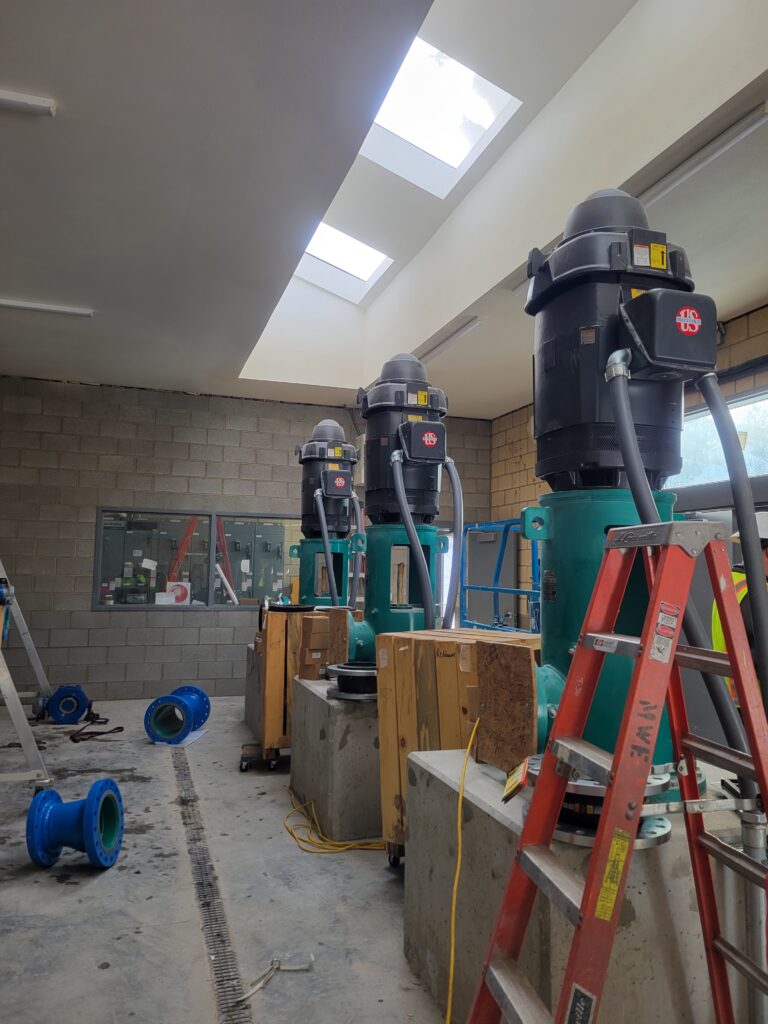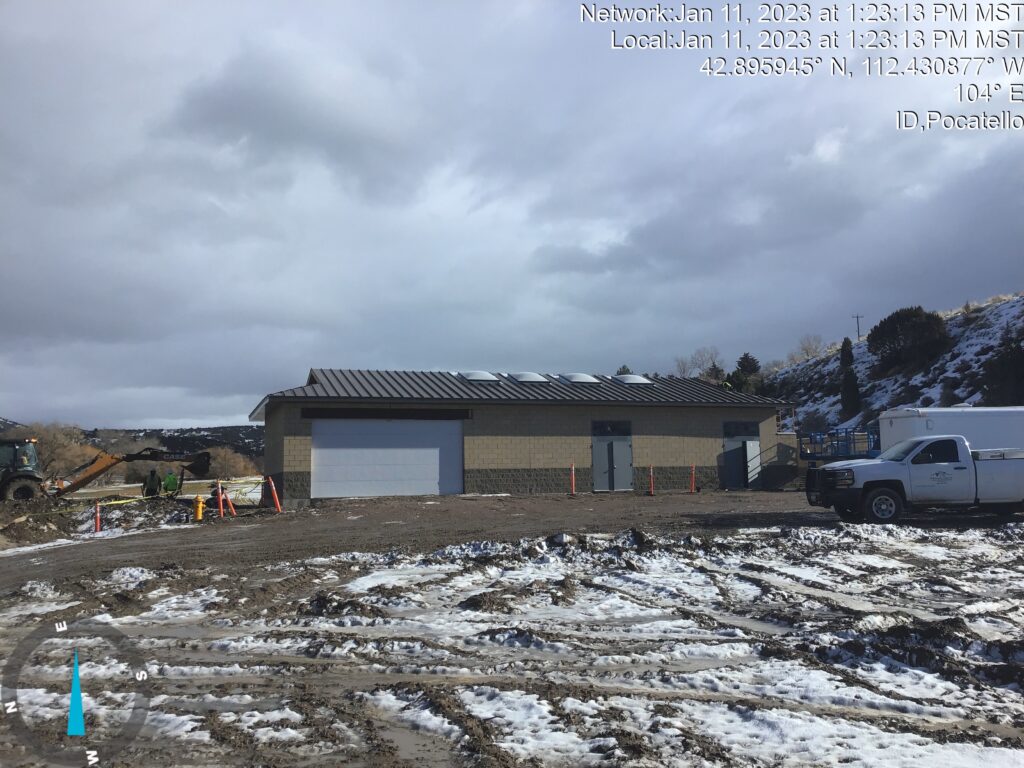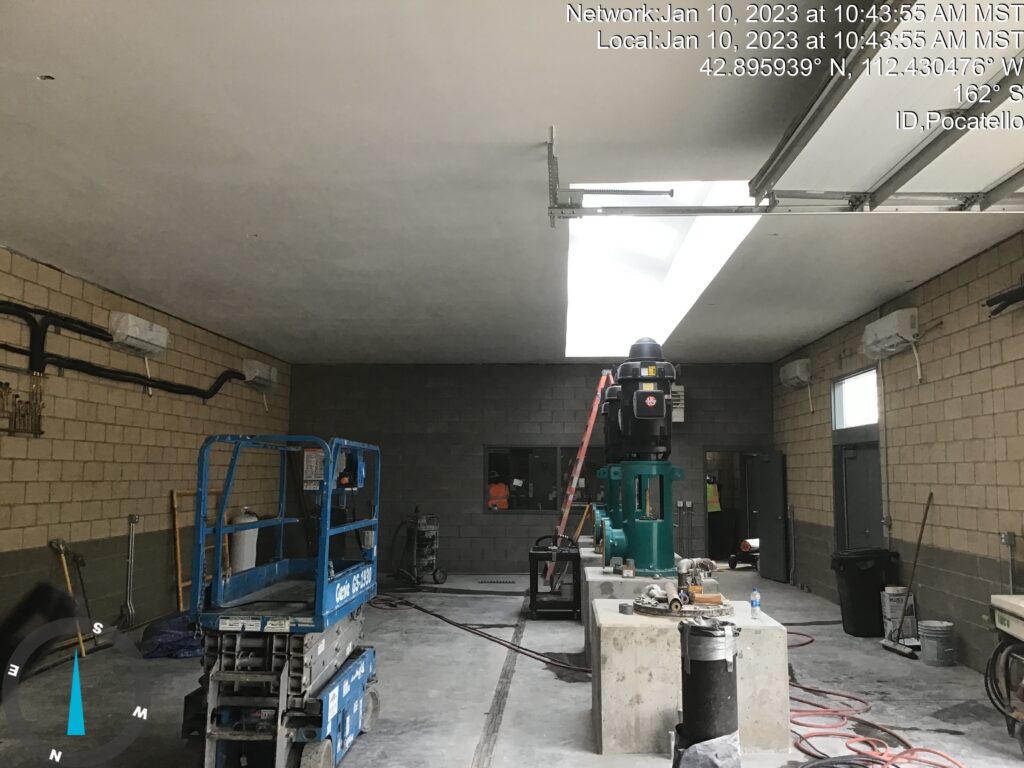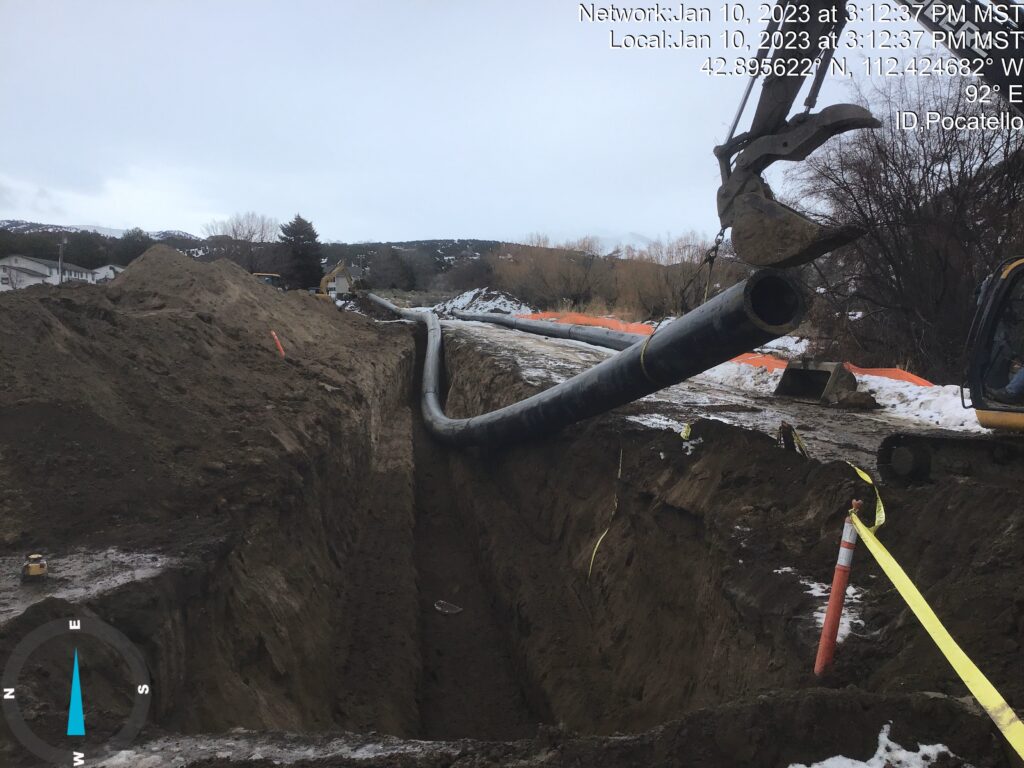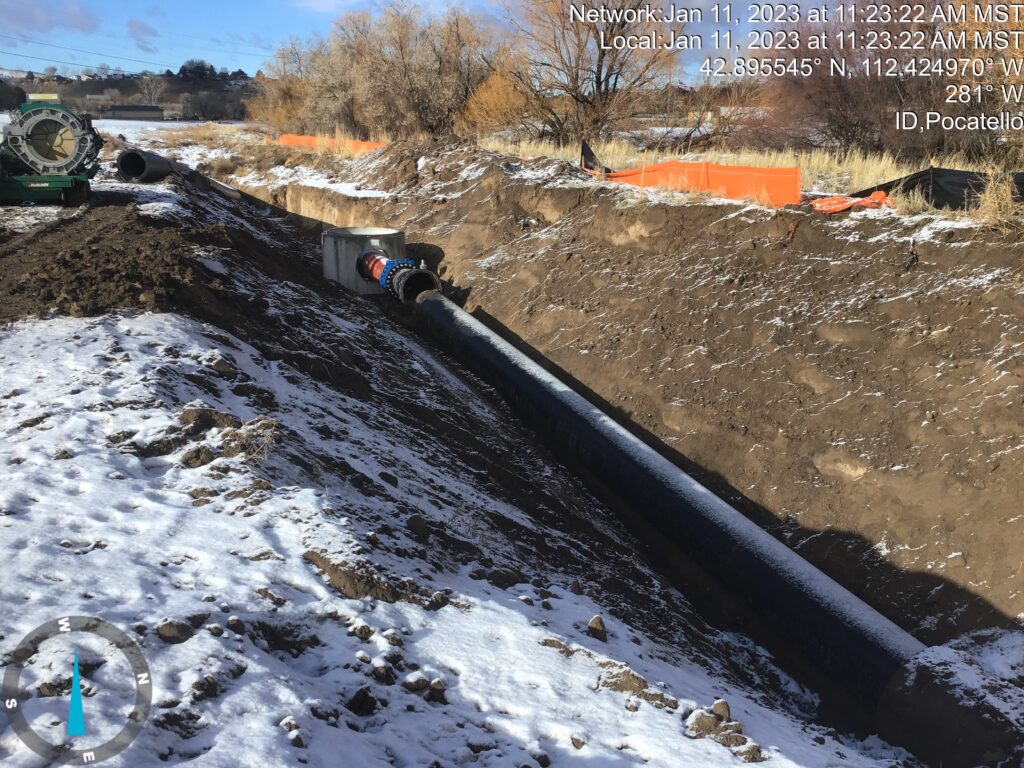 December 7, 2022
Pocatello BPS – IMCO has completed pipeline installation on two segments of Pocatello Creek Rd. and asphalt repavement was completed on November 18th. Pipe segments are being linked up near Fire Station #3 and Sister Cities Park. The booster station intake manifold has been completed. The booster station building construction is progressing with final roof framing details, roofing, drywall, doors, and insulation to be completed in the next few weeks. Utility service installation is in progress.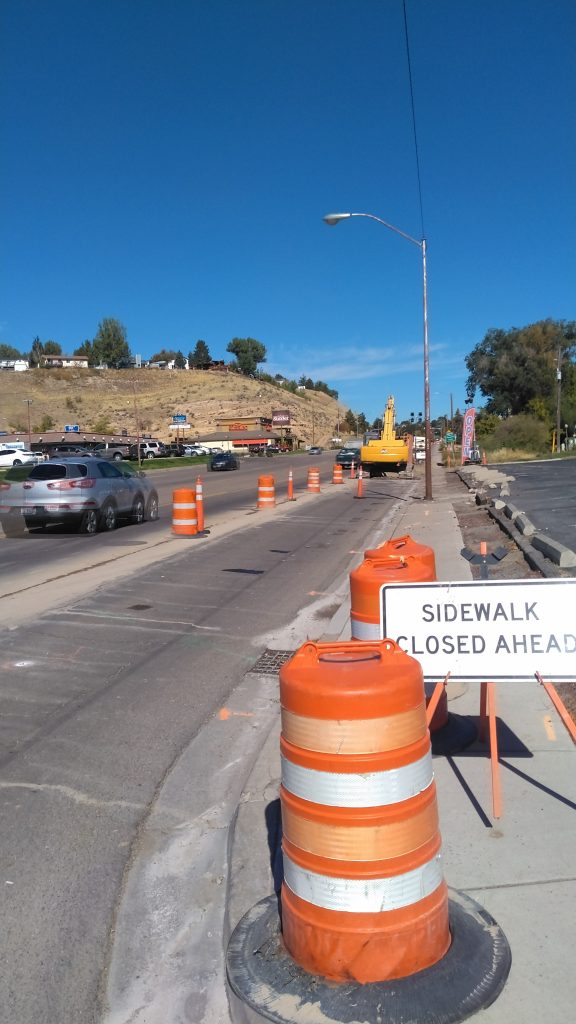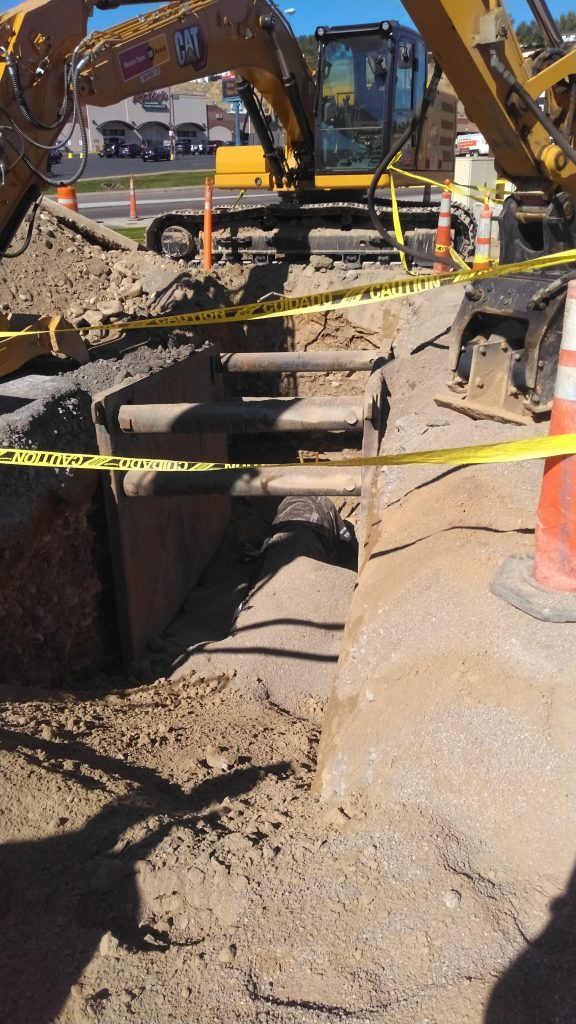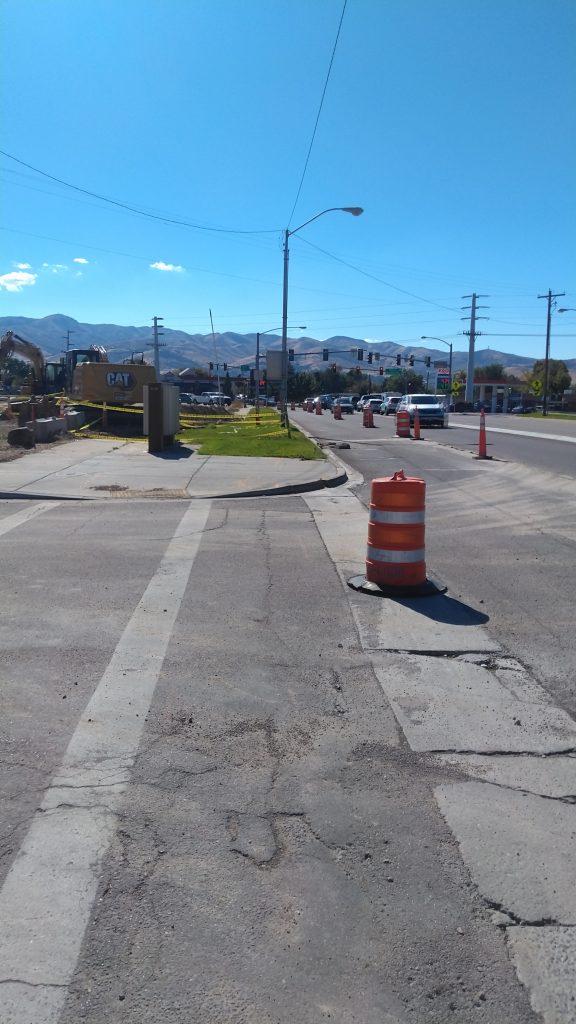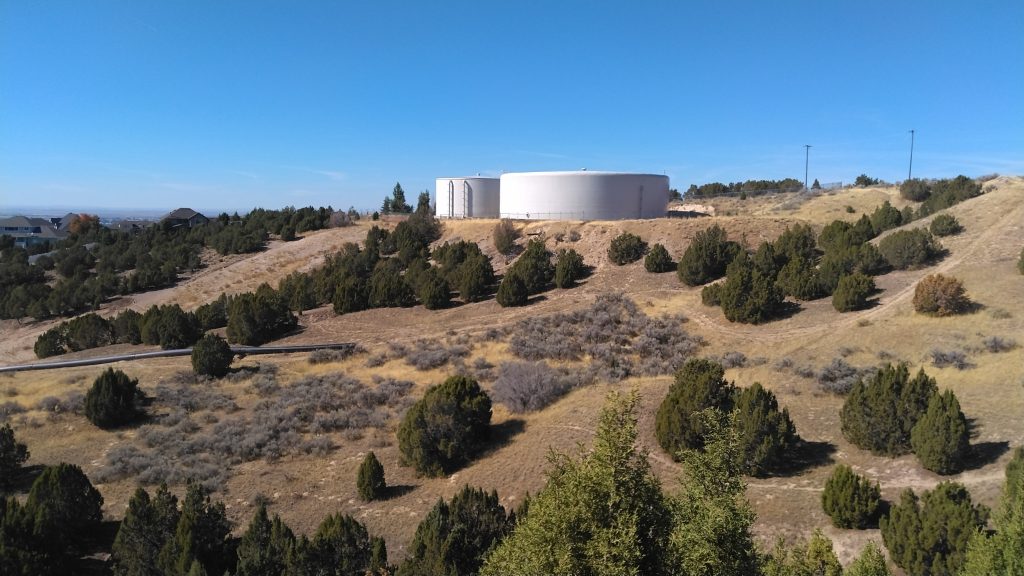 October 31, 2022
Installation of waterline has been completed through Sister Cities Park and crossing Satterfield Drive, for the Pocatello Creek Booster Station. Connecting of pipe segments and installation of isolation valves and air relief valves is in progress. Pipe installation from Alameda and into Pocatello Creek Road has proceeded with night work to reduce traffic disruption. Installation of pipe in the roadway of Pocatello Creek Rd. is anticipated to be complete in the next couple of weeks with road restoration to immediately follow. Booster station masonry walls have been completed. Roof trusses and framing are continuing. Installation of underground piping around the booster station is in progress.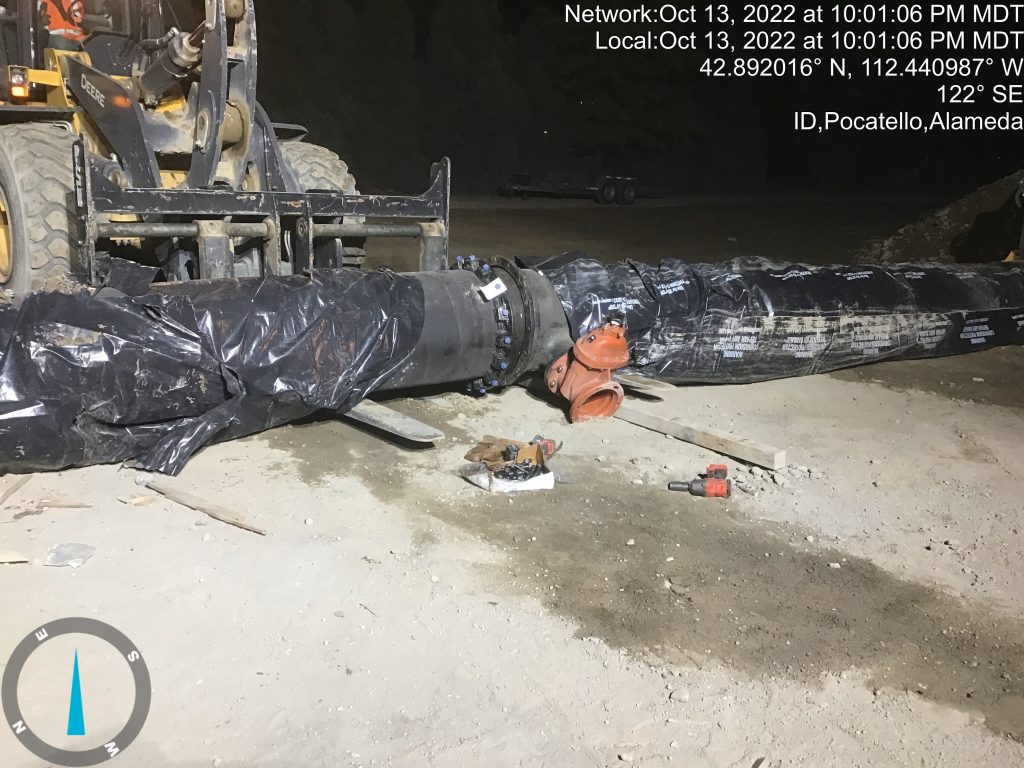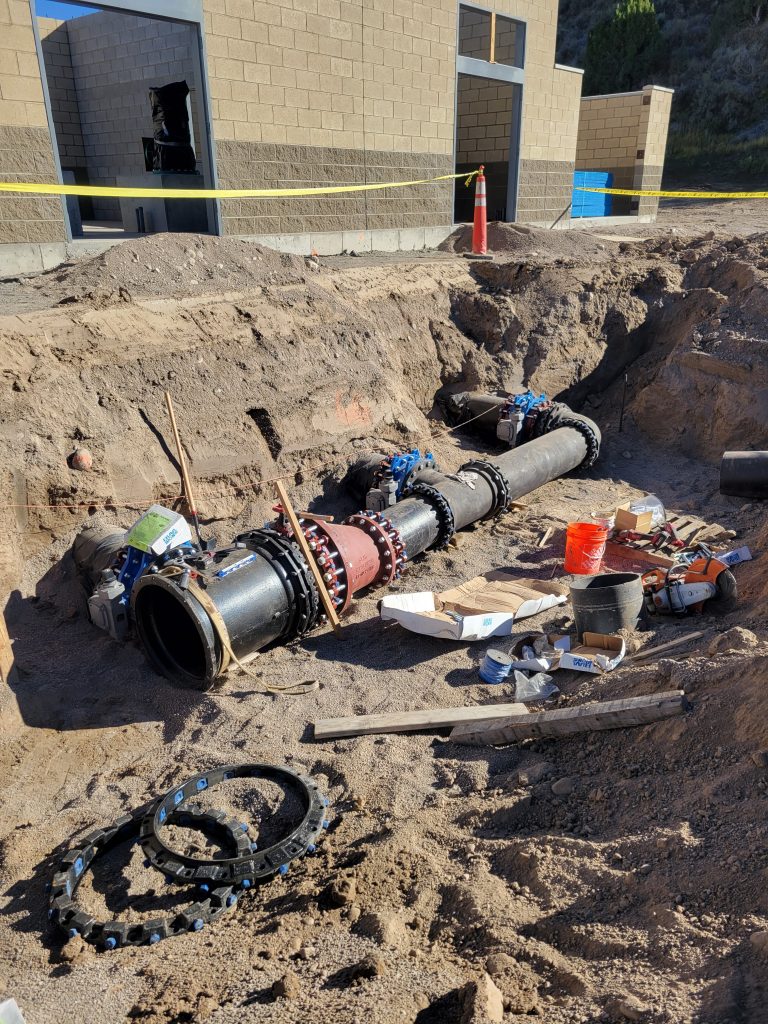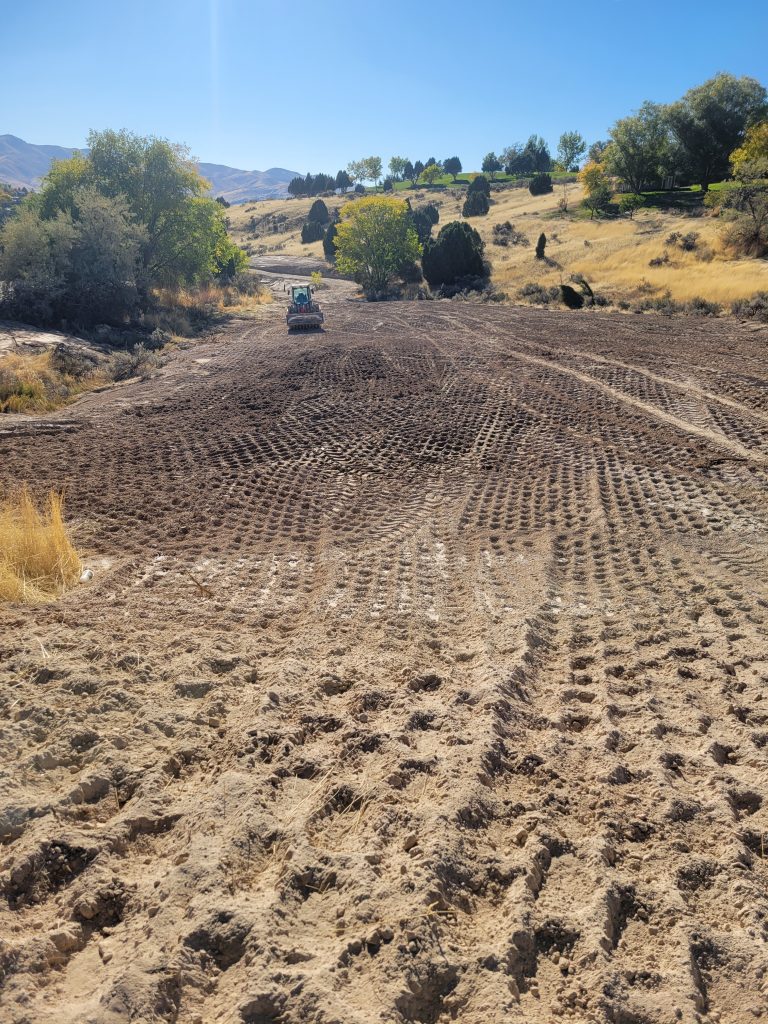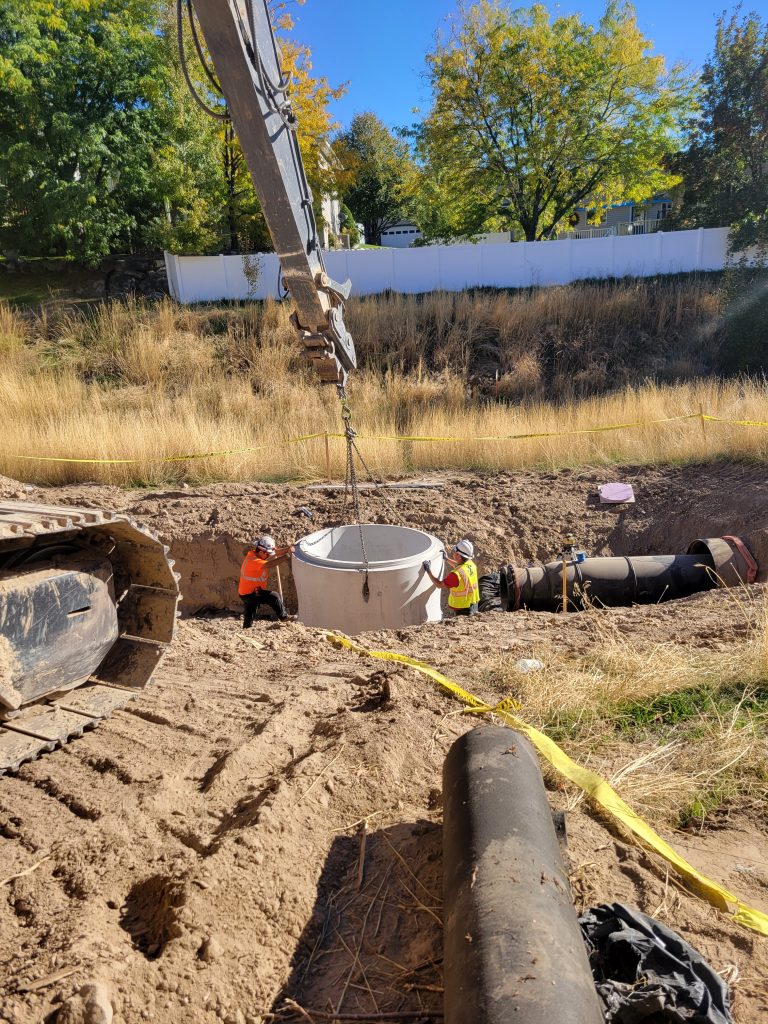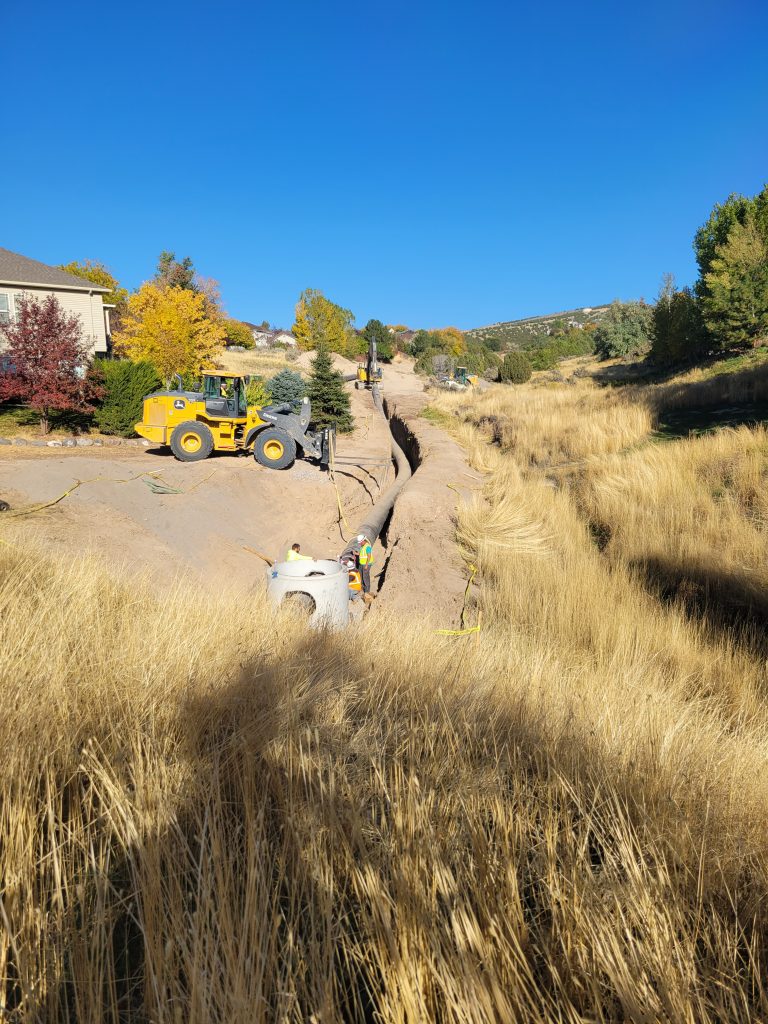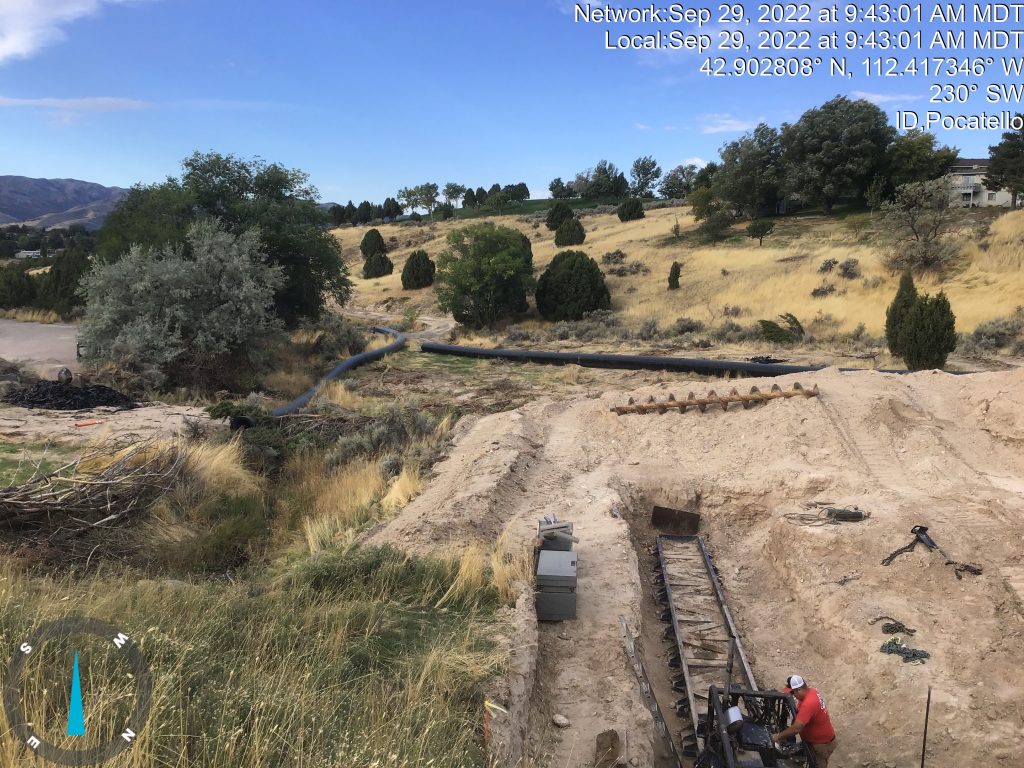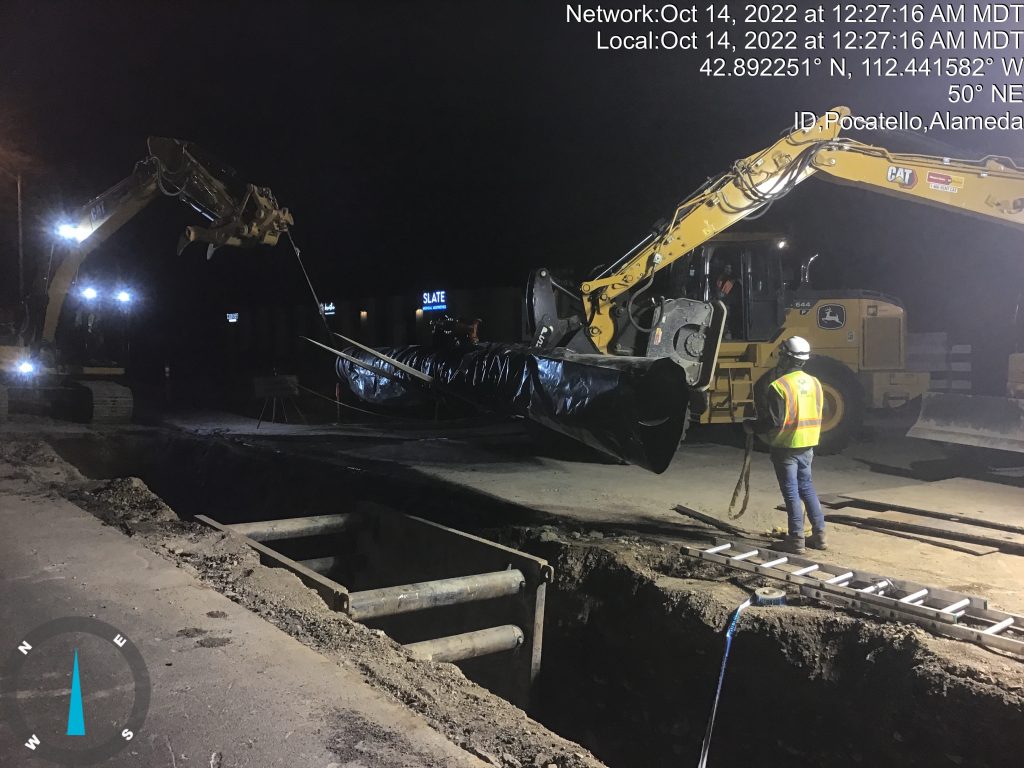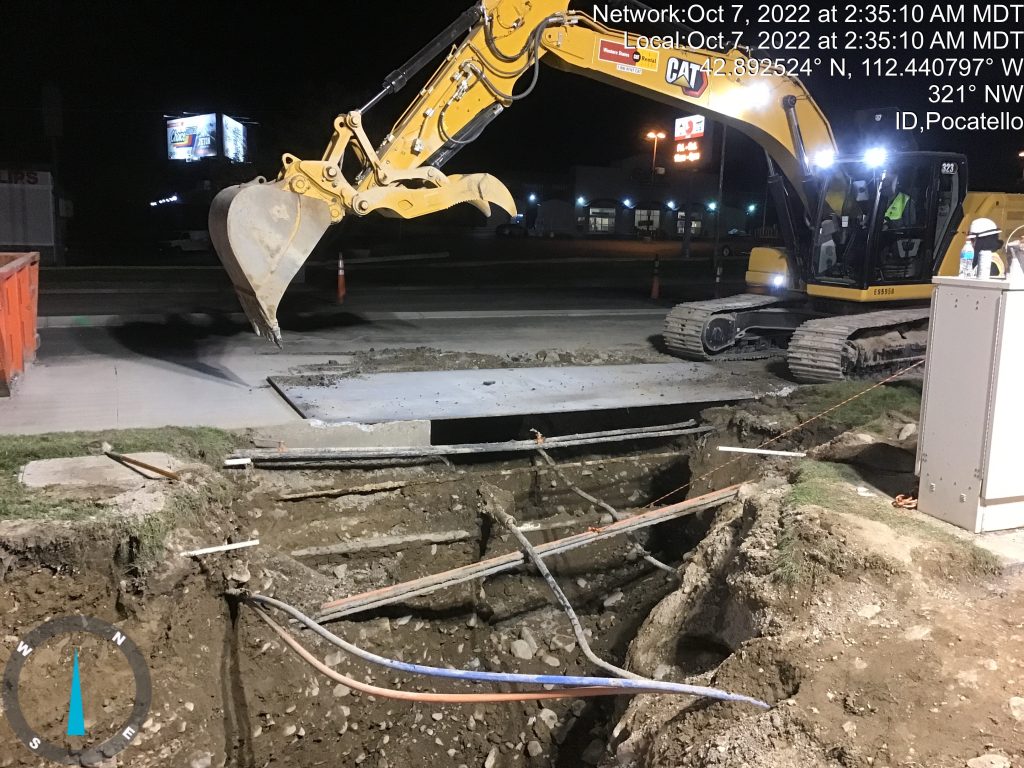 September 13, 2022
Update on the Pocatello Creek Booster Station project. The HDPE pipe was successfully pulled under I-15 and Pocatello Creek. Currently jack and boring is going on under Satterfield Drive. Piping is being laid from Sister Cities Park to Satterfield Drive. The foundation has been poured at the Booster Station and construction of the physical building is moving forward.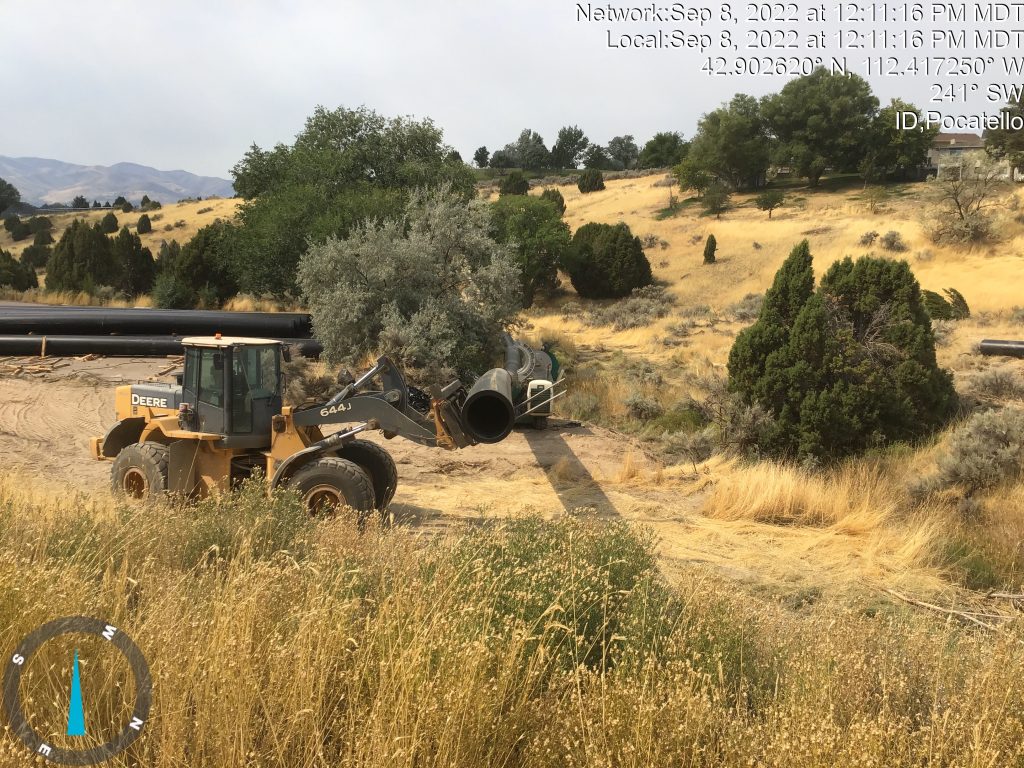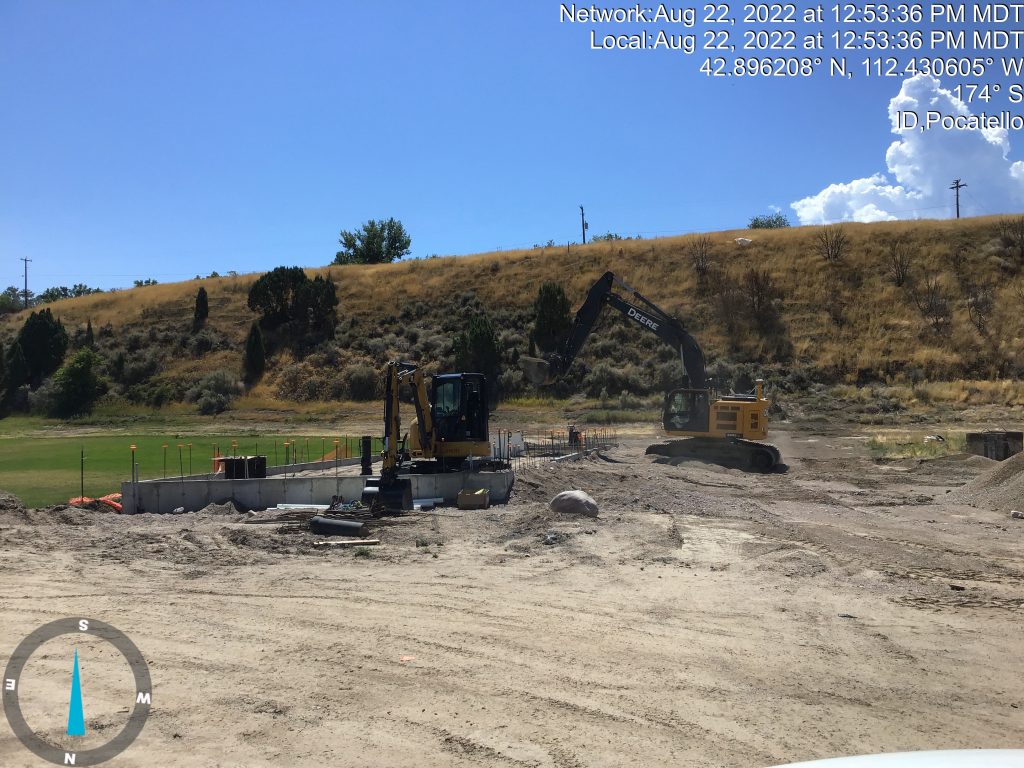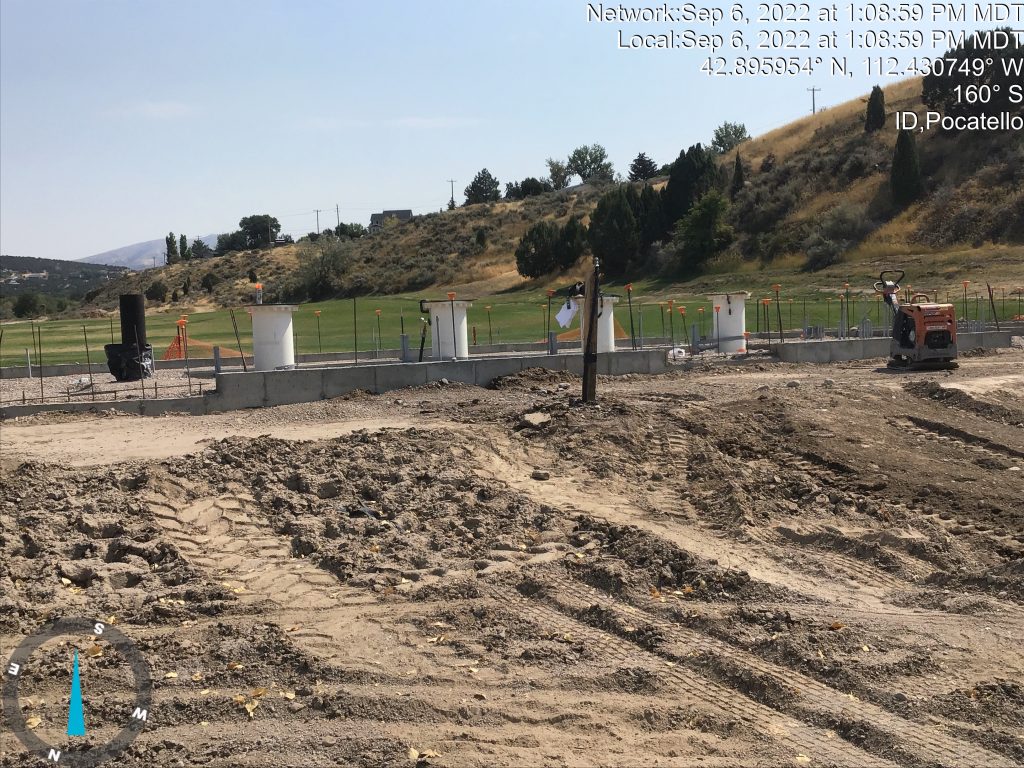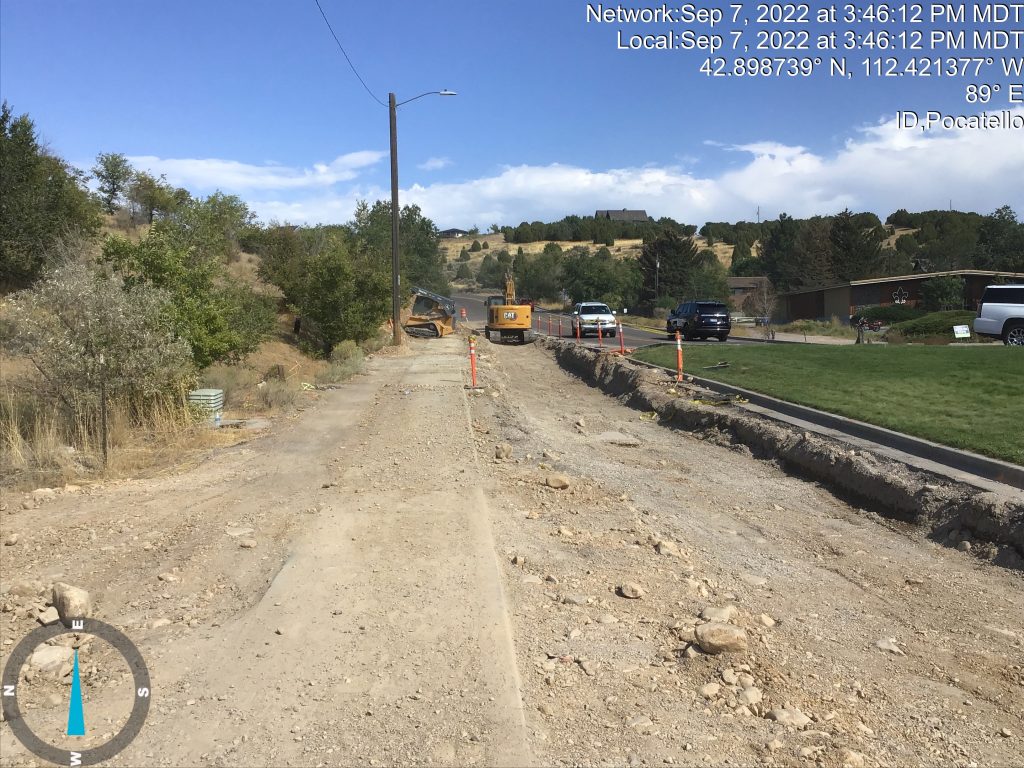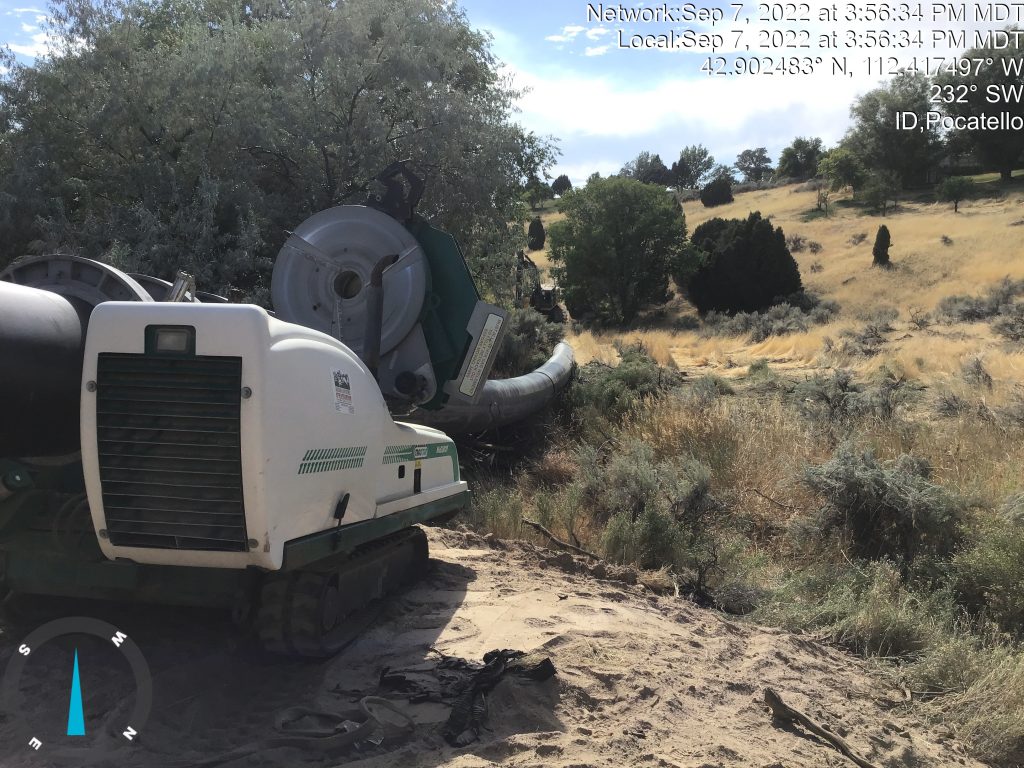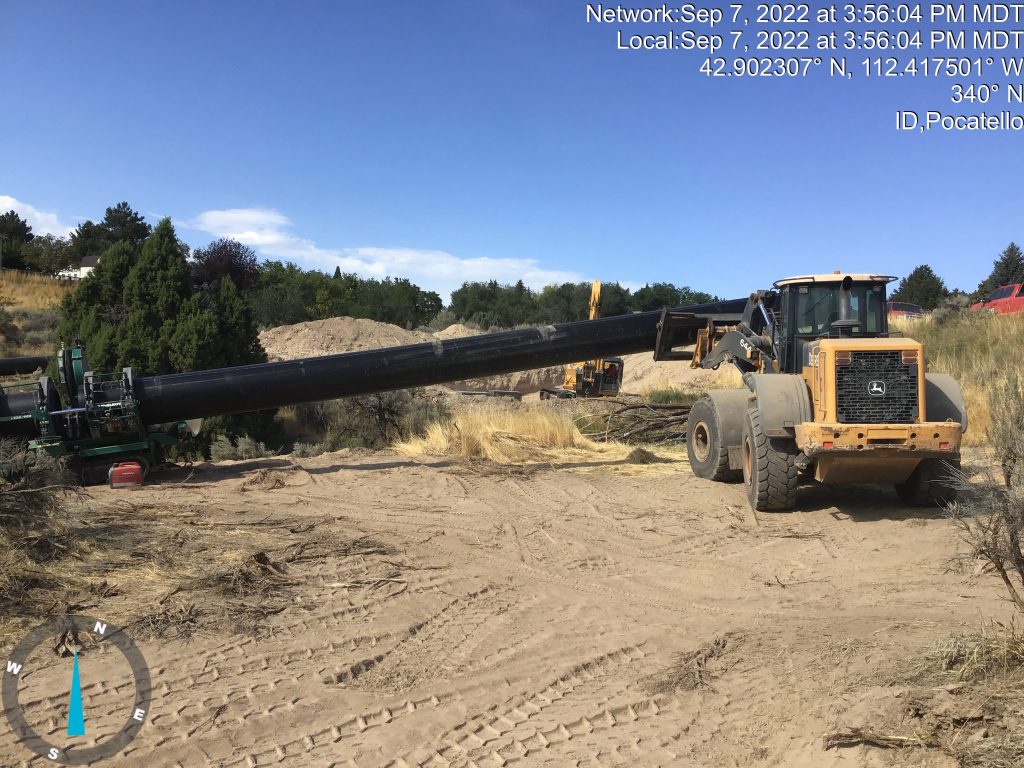 July 22, 2022
Construction work continues with transmission pipeline installation along the ravine above Summit Dr., bore reaming under I-15, and booster station piping. The culvert crossing of Pocatello Creek and associated creek channel modifications have been completed. The next few weeks will see booster station foundation construction begin and final preparation for pullback of the pipeline through the interstate bore section.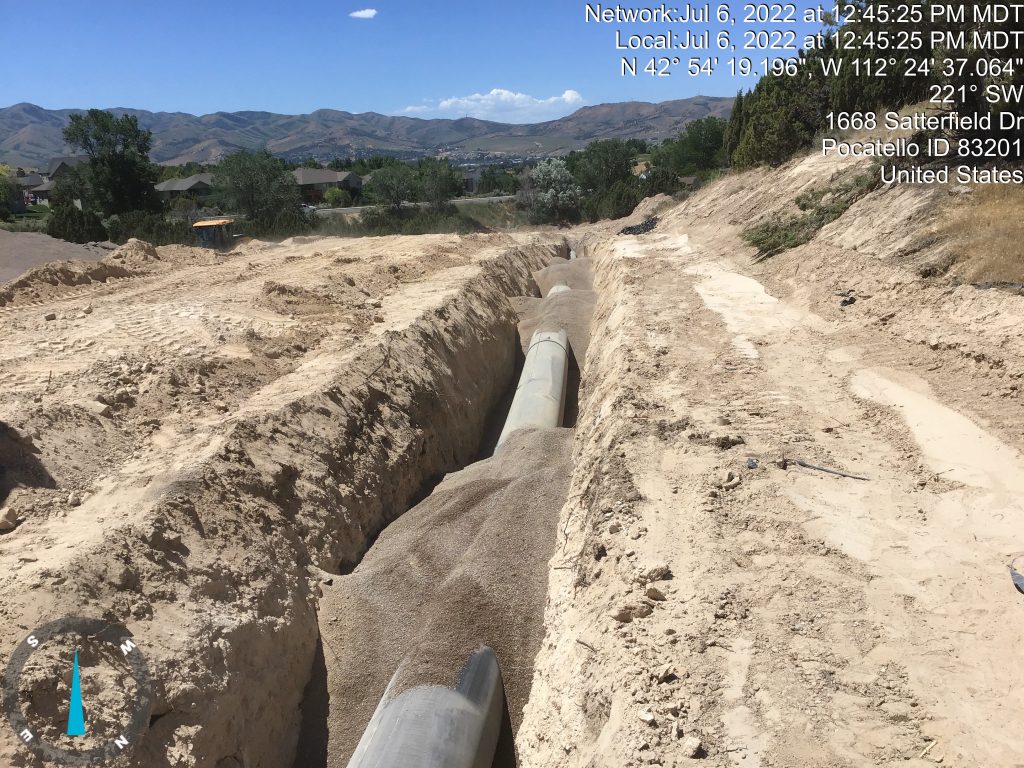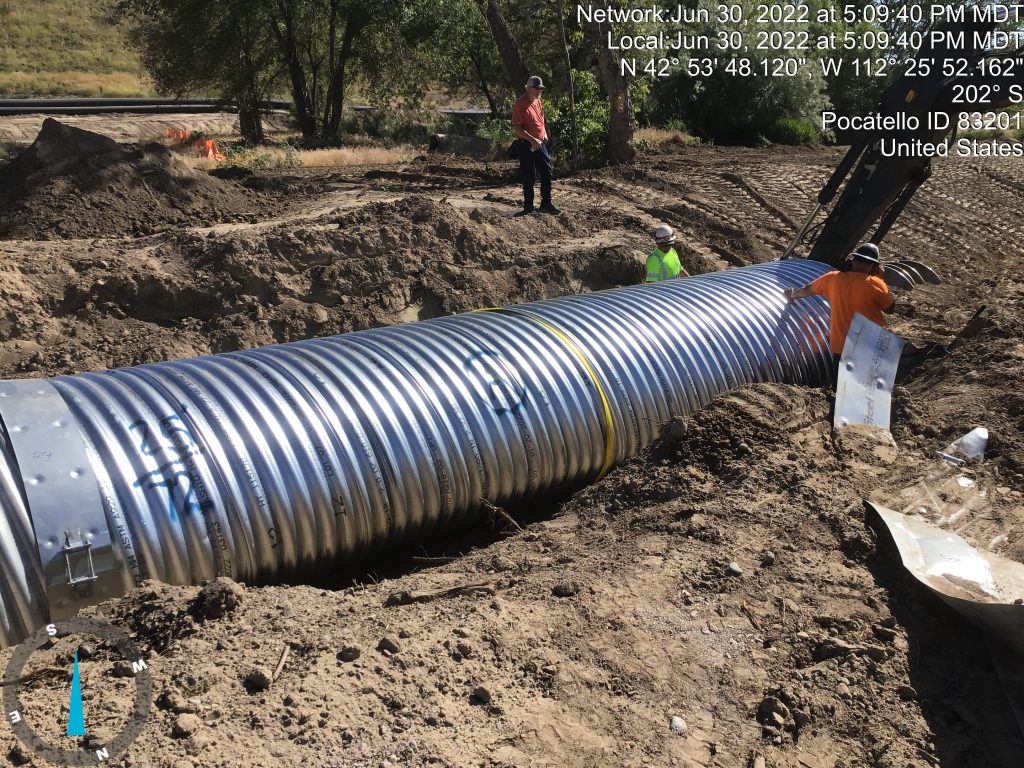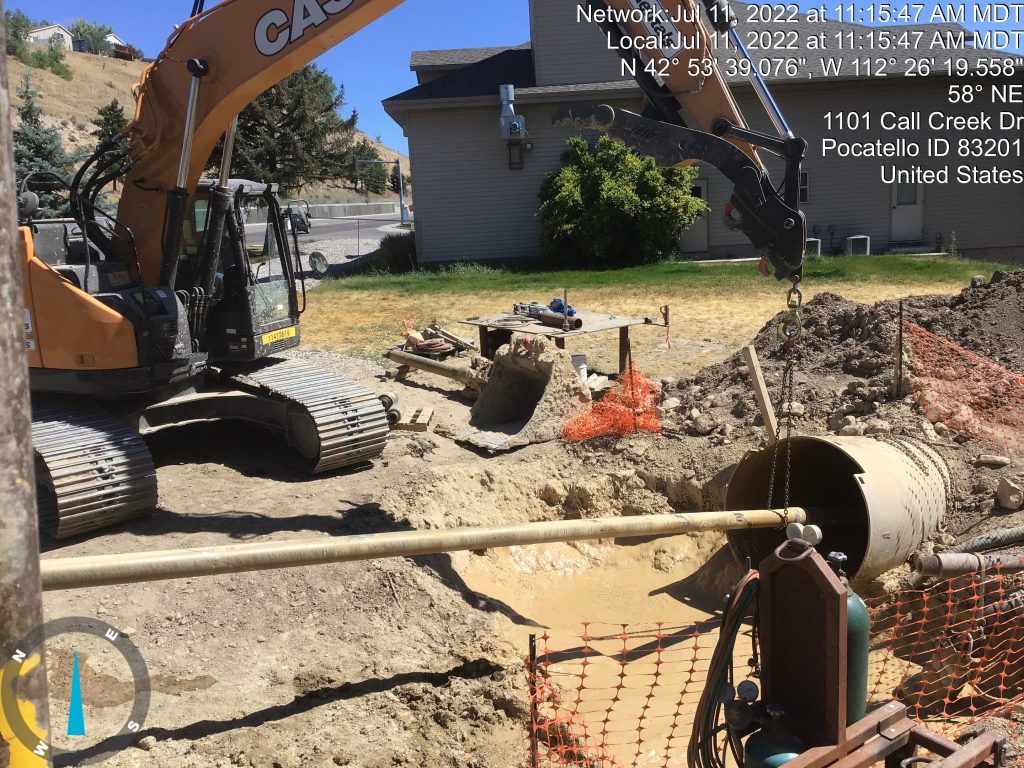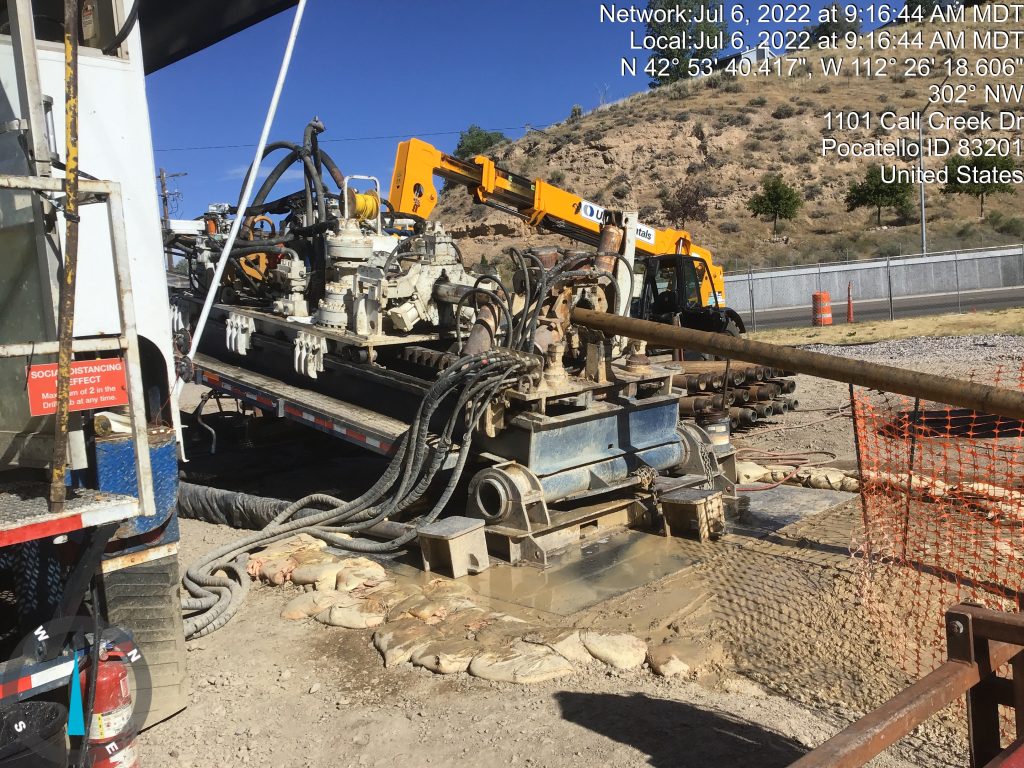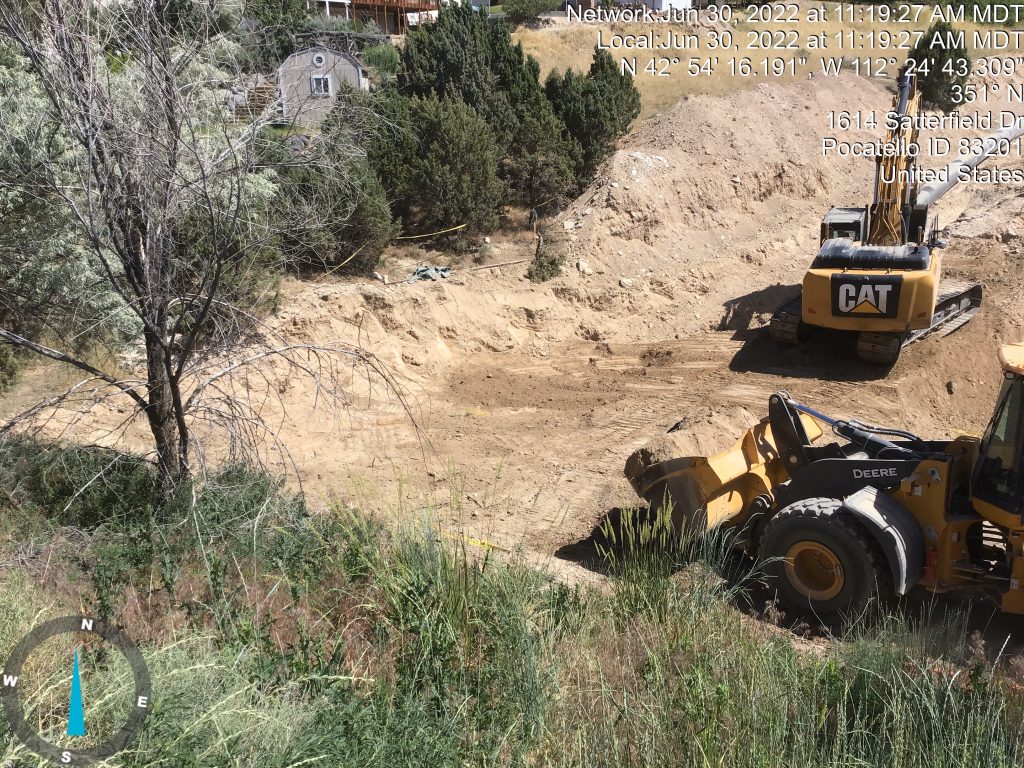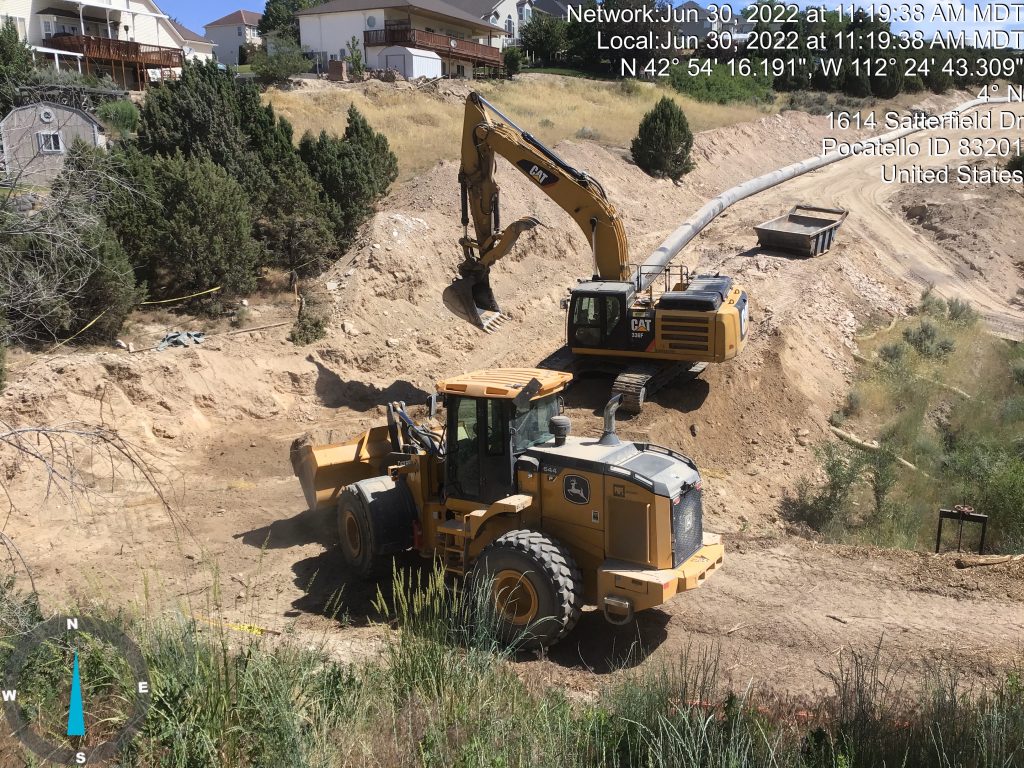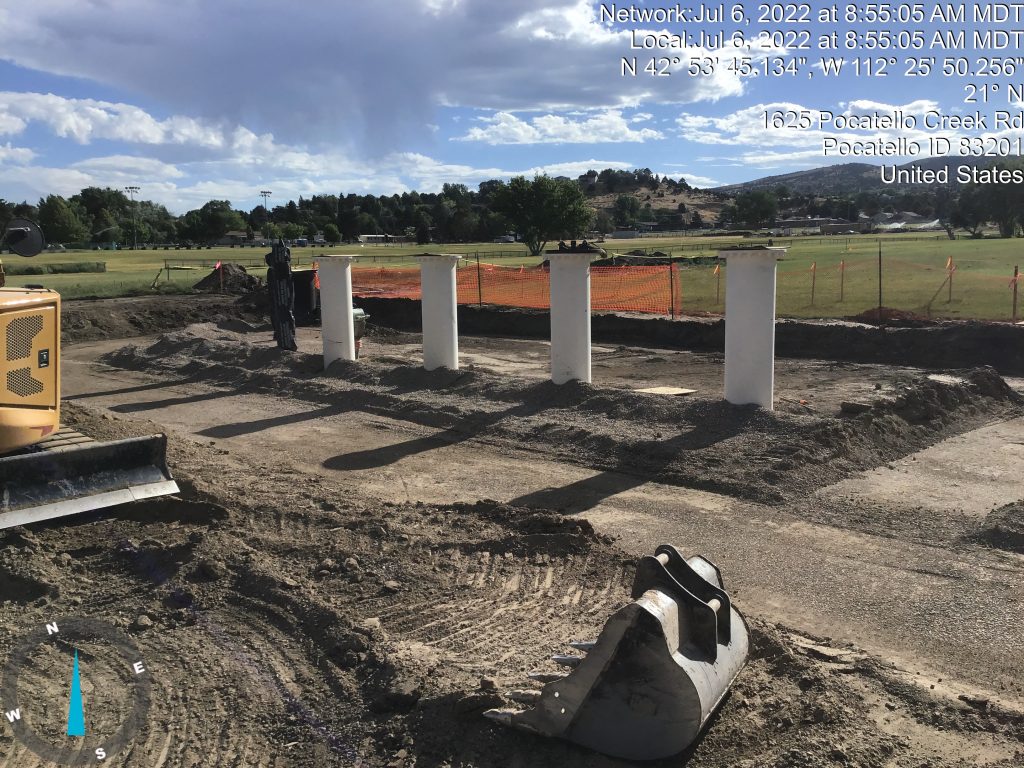 June 21, 2022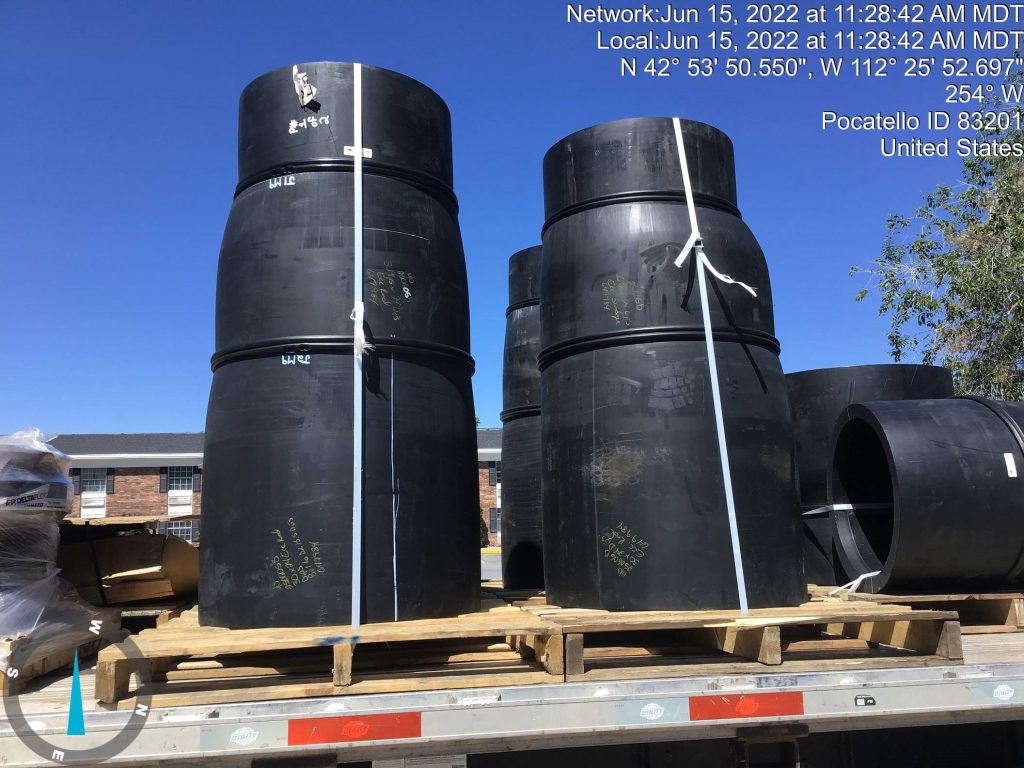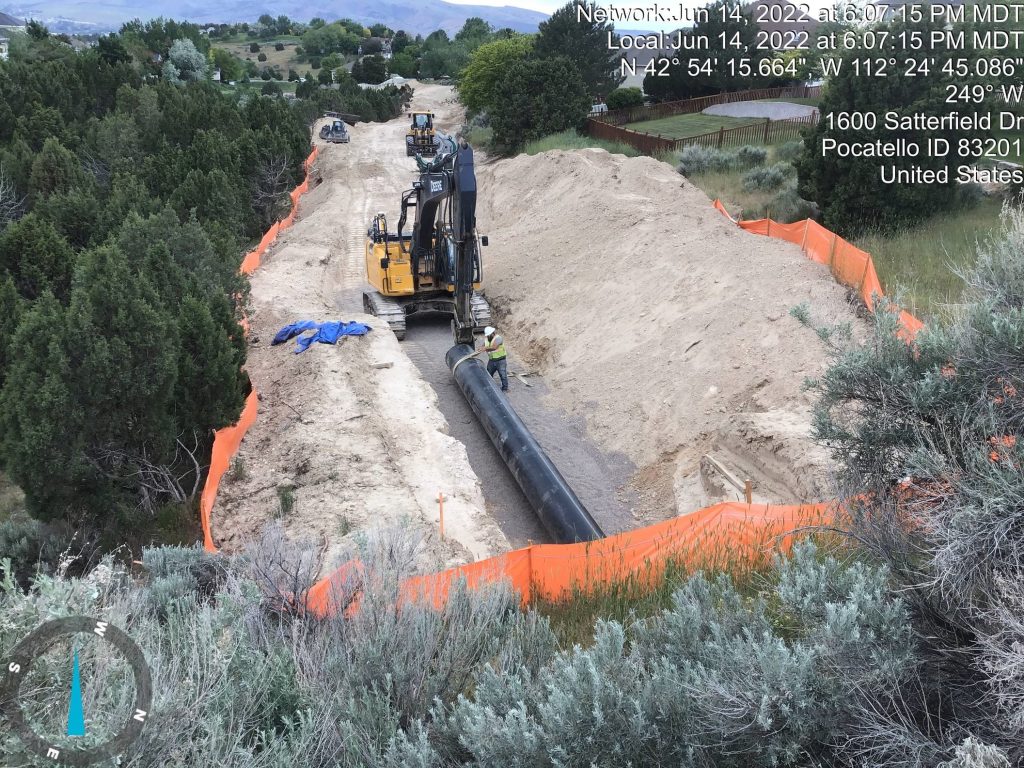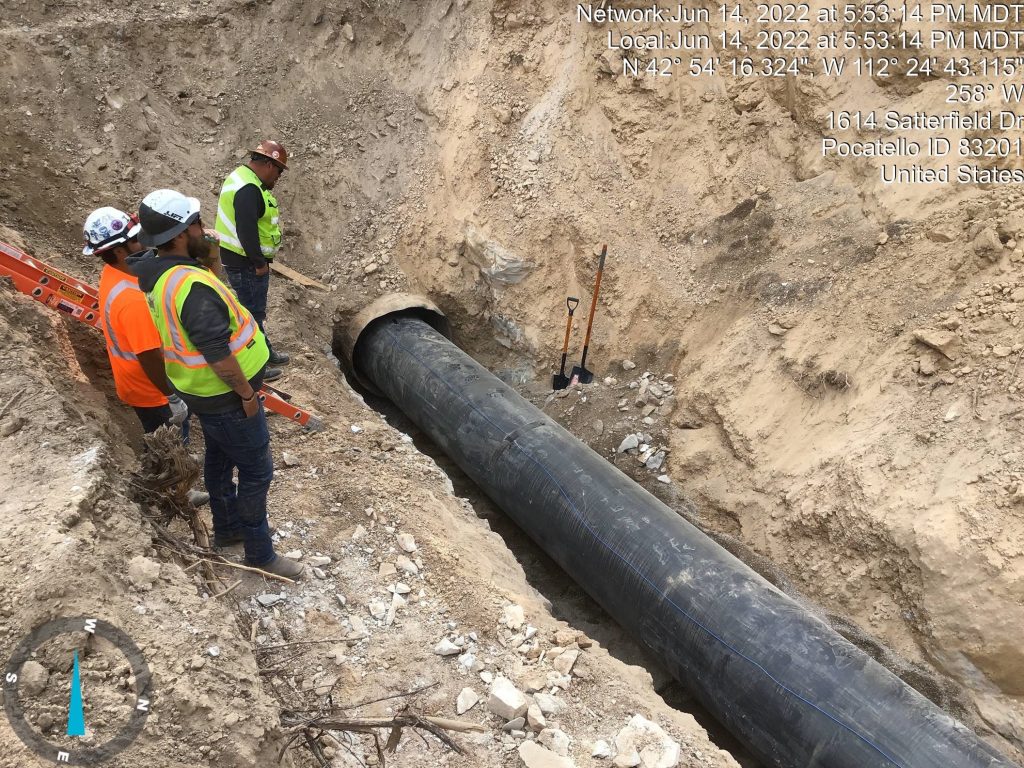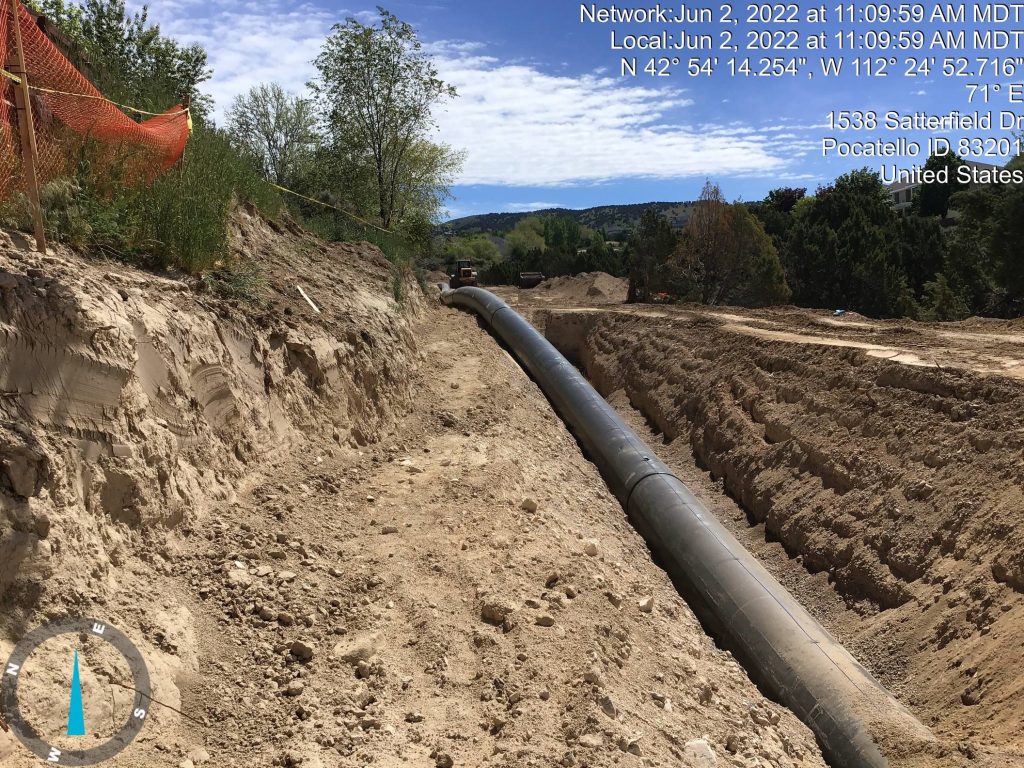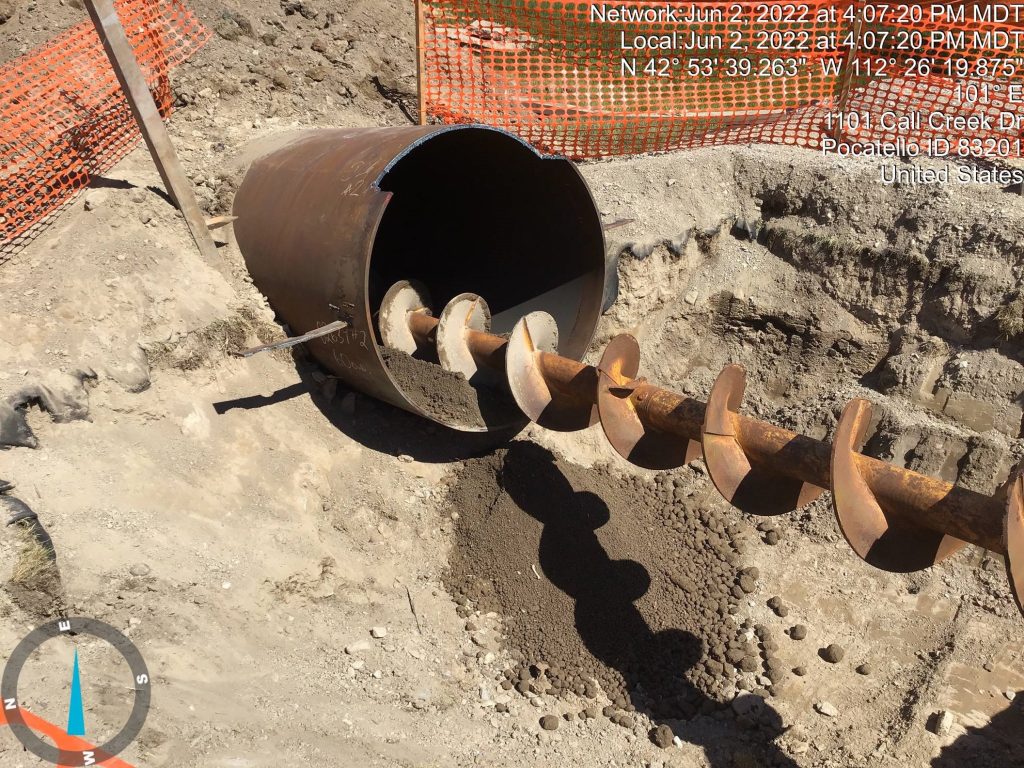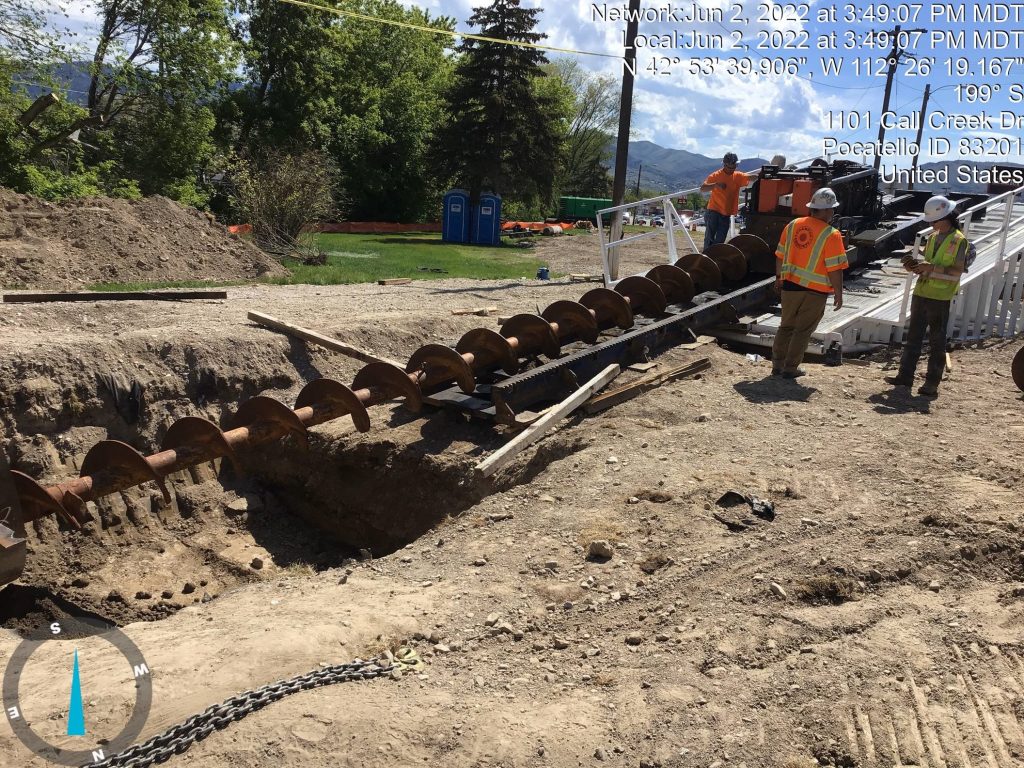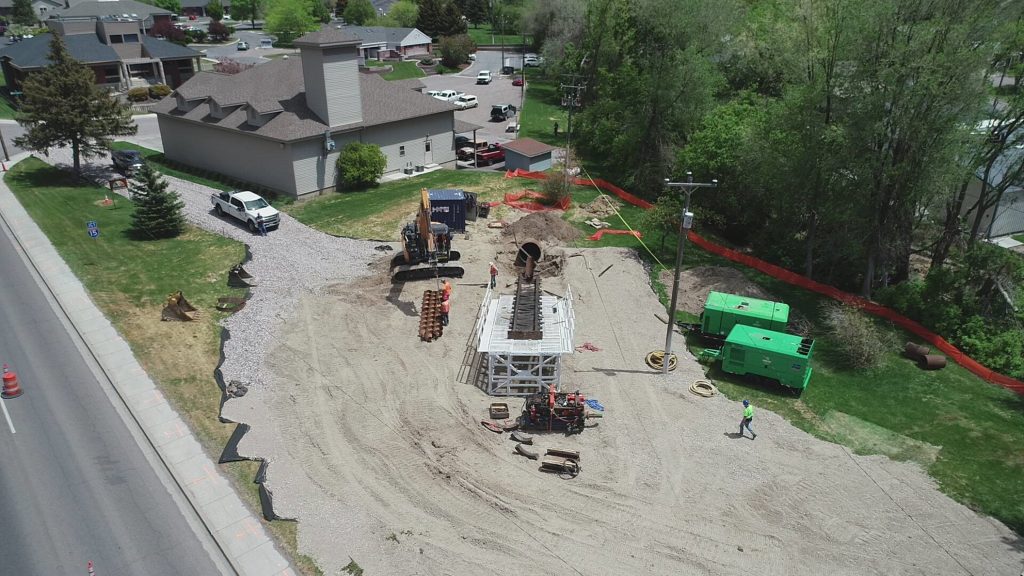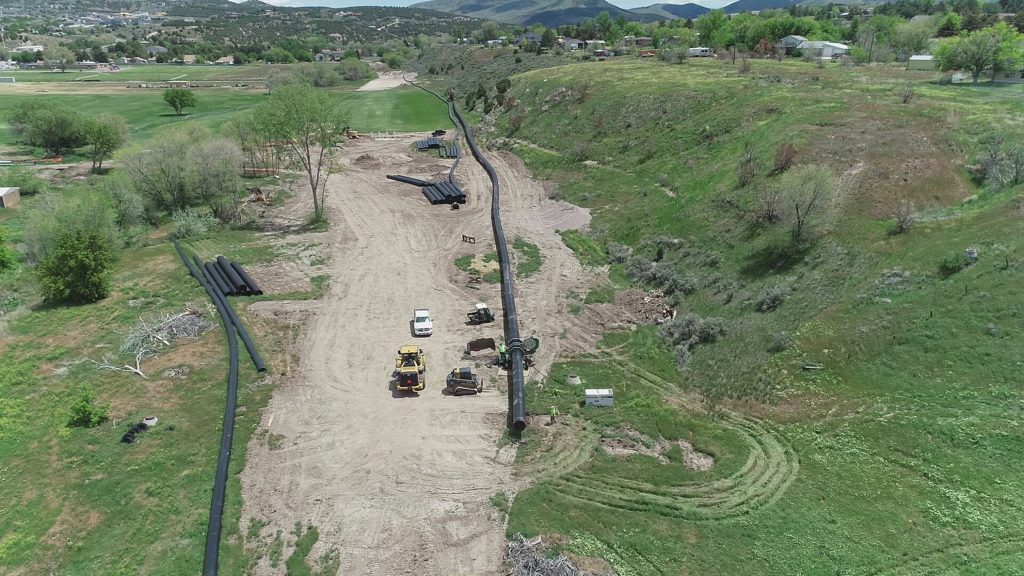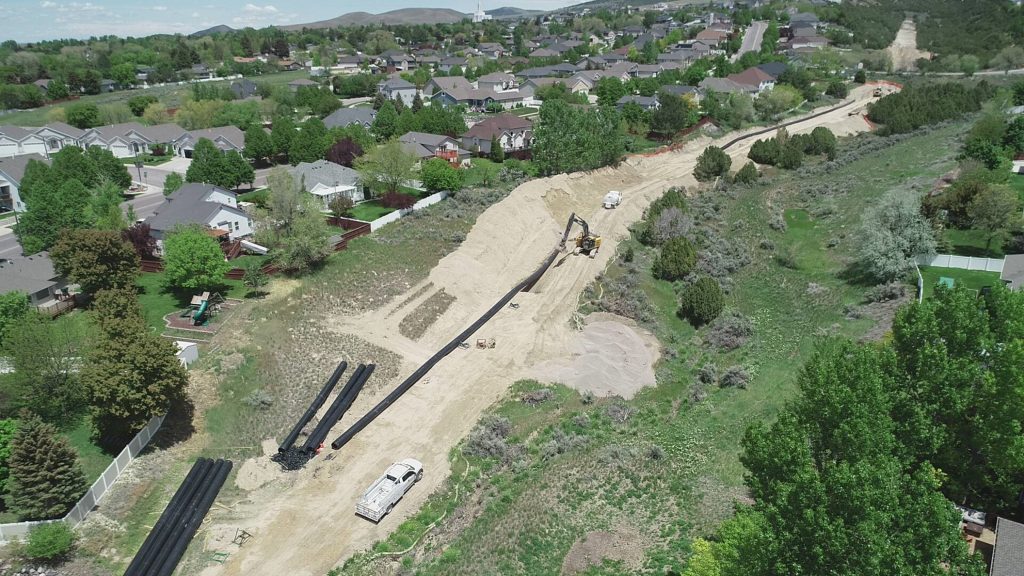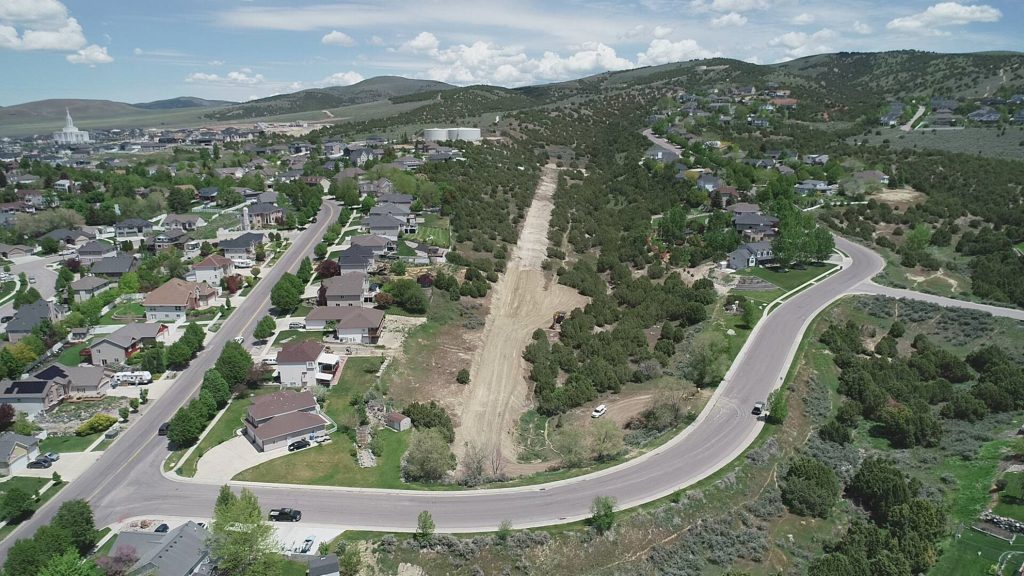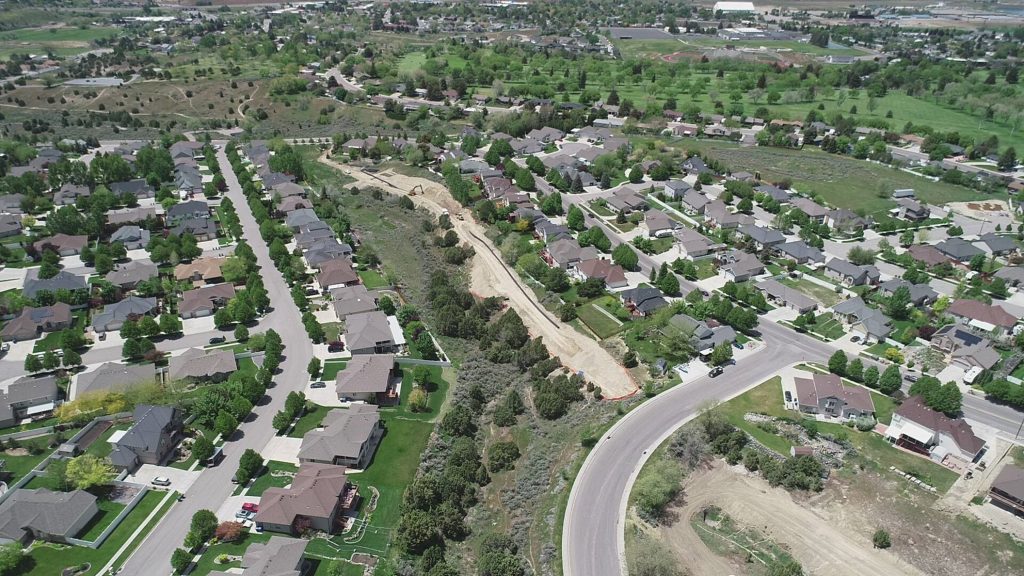 June 1, 2022
Major recent project progress components include preparing the pipe corridor and fusing of HDPE piping between Satterfield Dr. and Summit Dr., installation of underground piping for the booster station near Pocatello Creek, and preparation for the directional drilling near the fire station on Pocatello Creek Road. The next few weeks will see additional pipe trench excavation above Summit Dr., underground pipe installation at the booster station, beginning the directional bore under I-15, and repavement of Freeman Lane.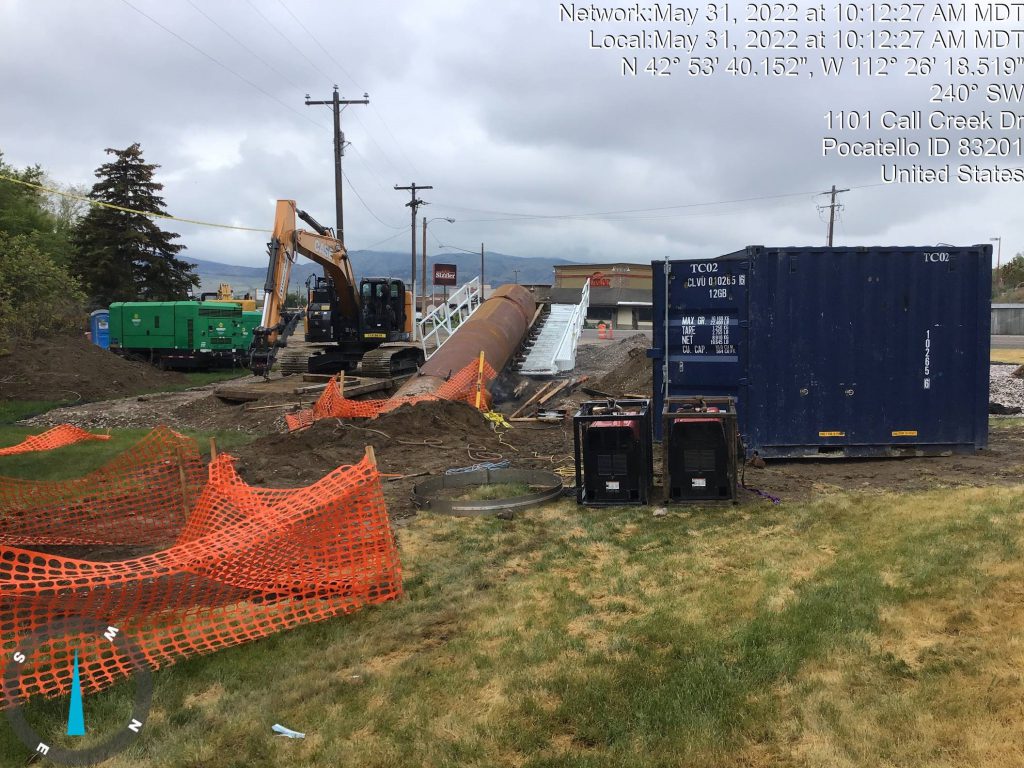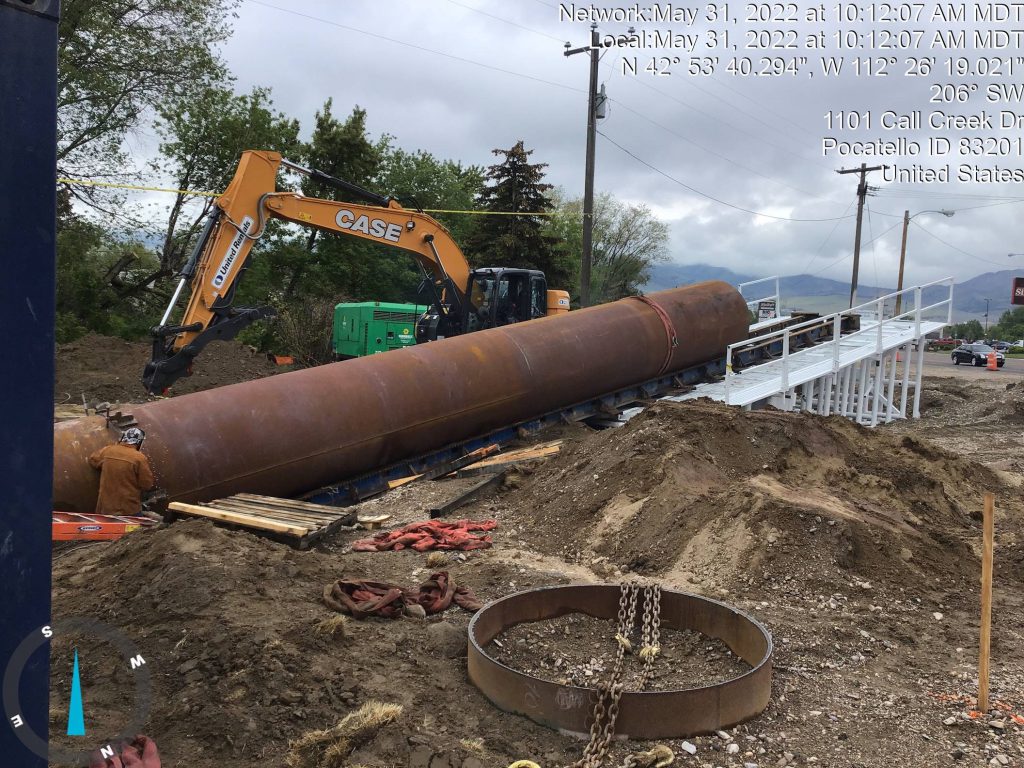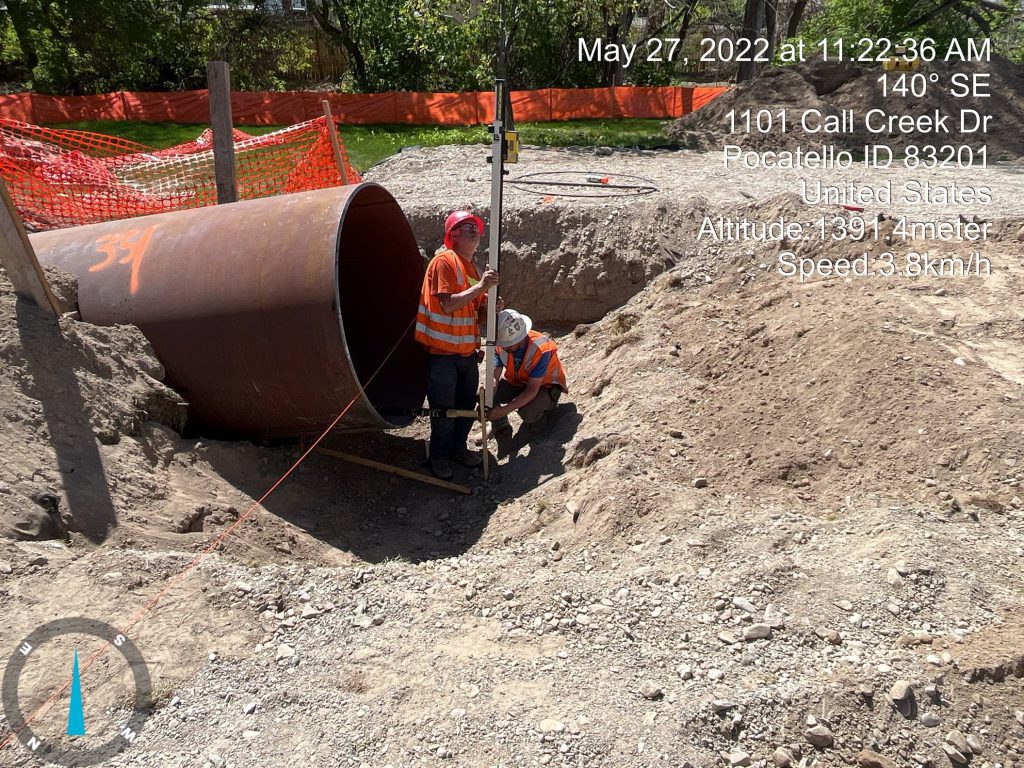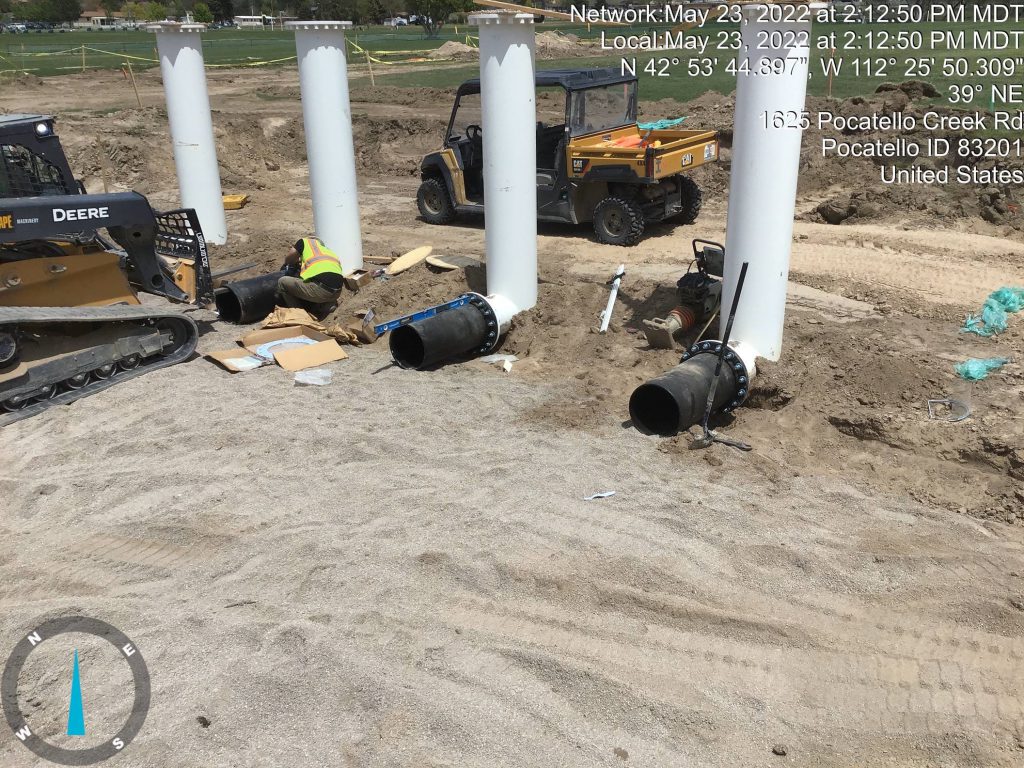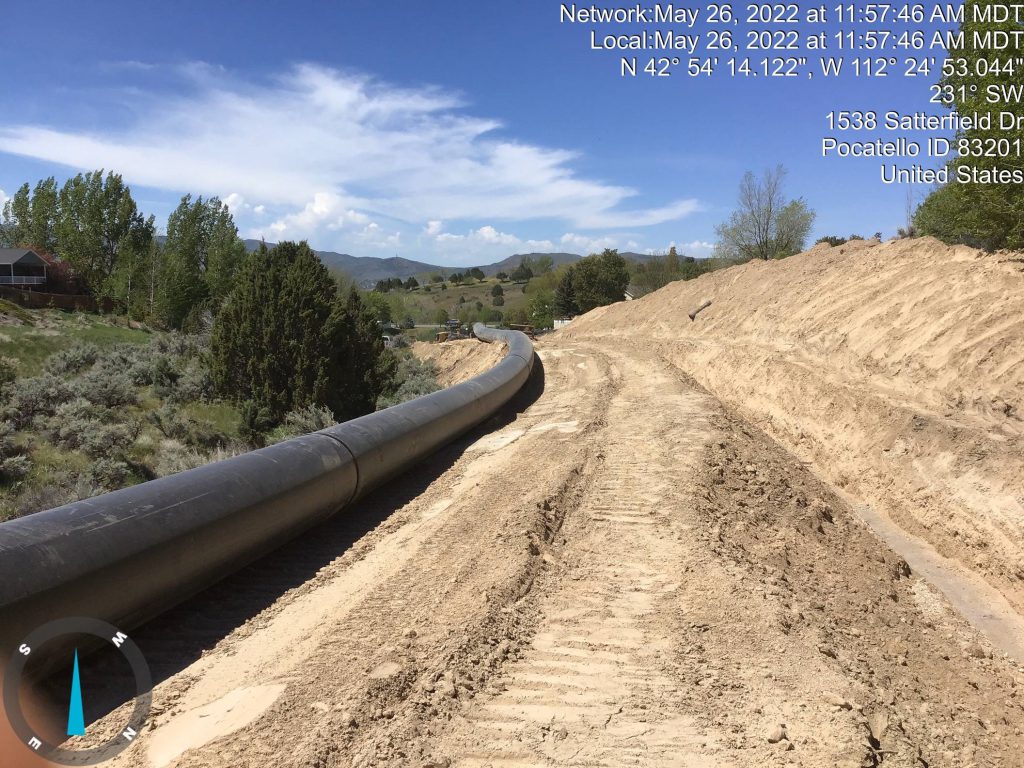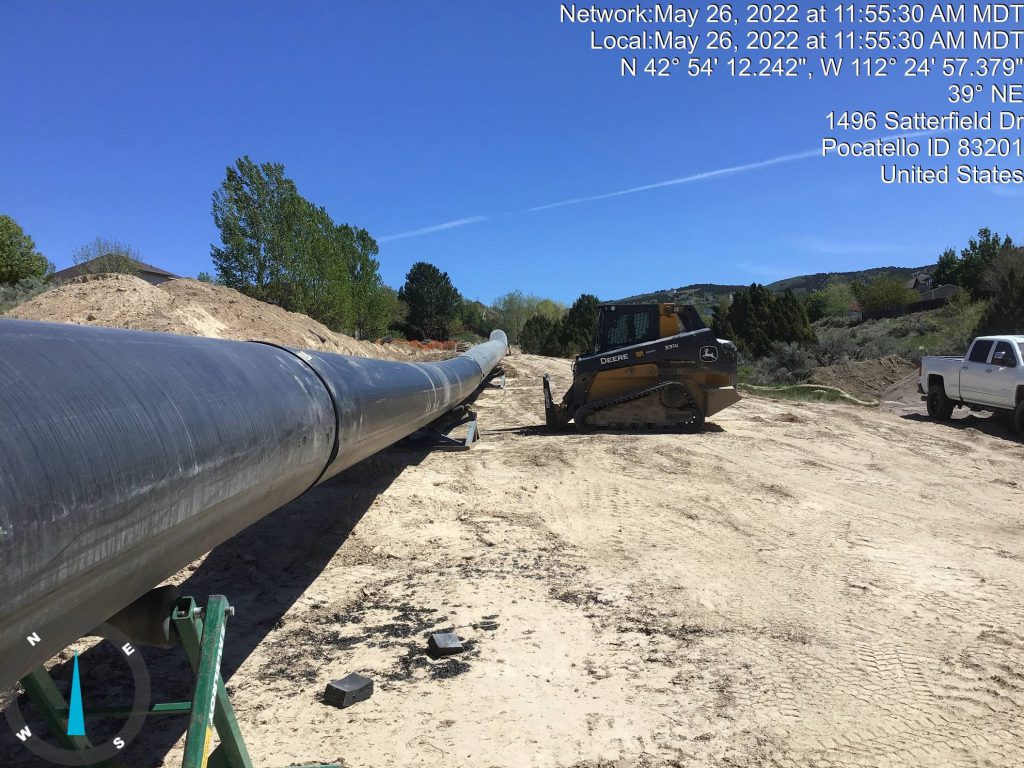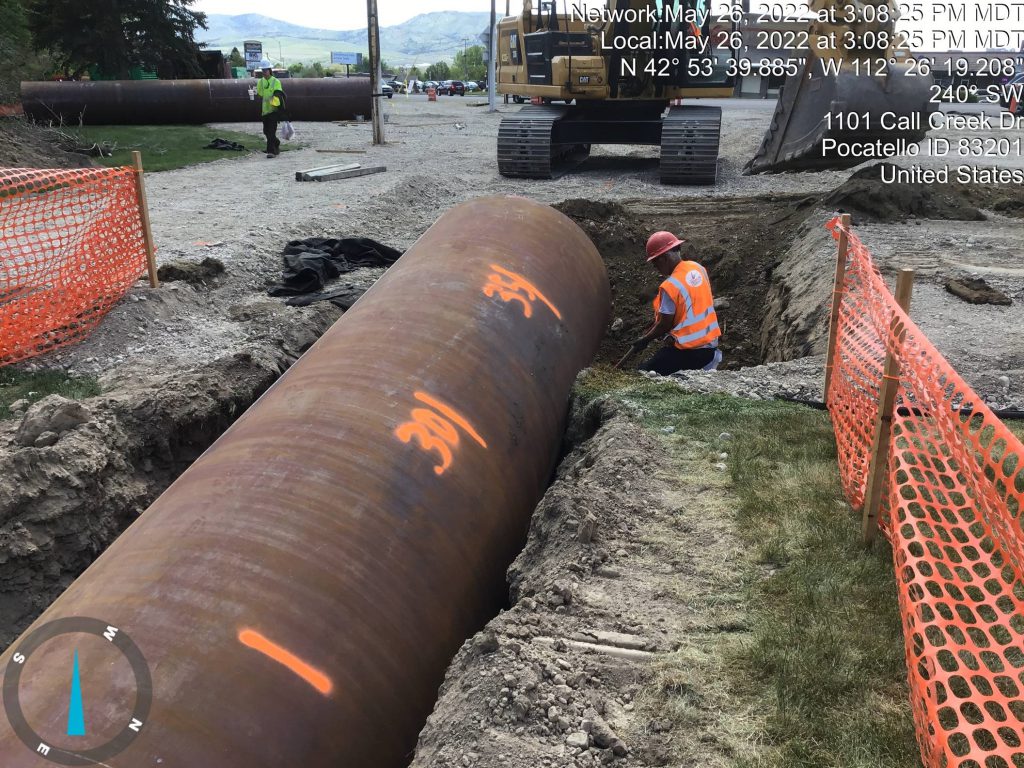 May 4, 2022
The contractor is working to install piping on Freeman Lane, completing surface restoration, fusing HDPE pipe segments, constructing subgrade piping and foundations for the booster station, completing a cased jack & bore crossing of Summit Rd., and beginning the installation of a culvert crossing for access over Pocatello Creek. It is anticipated to start the major directional bore under I-15 in the next two weeks.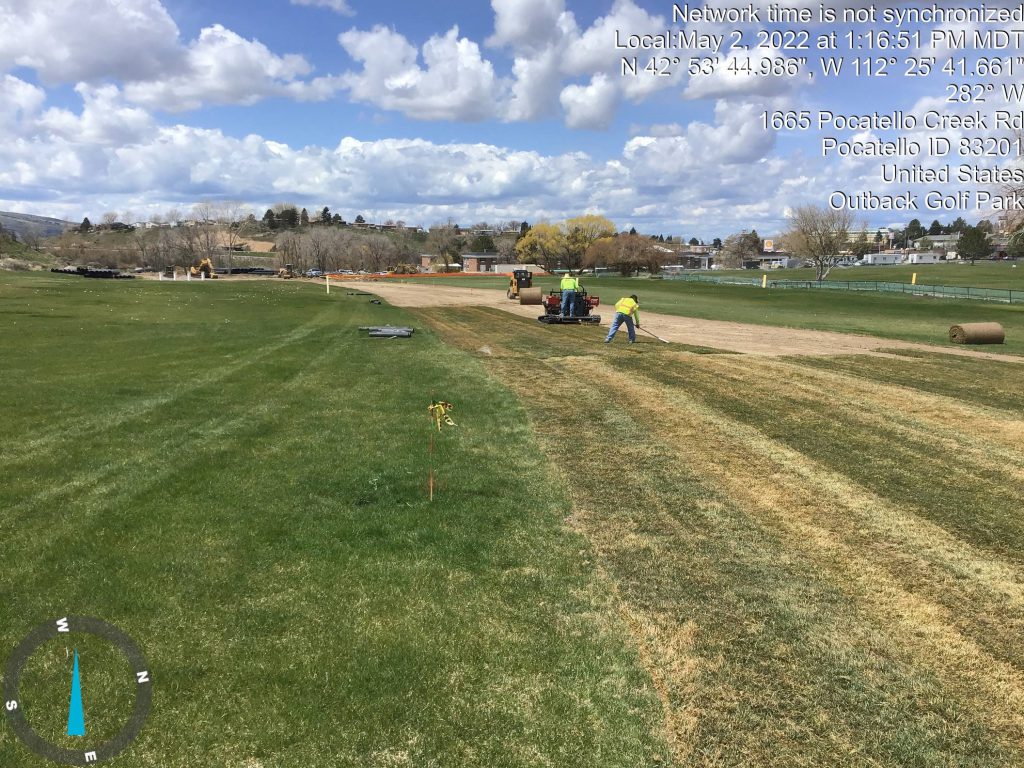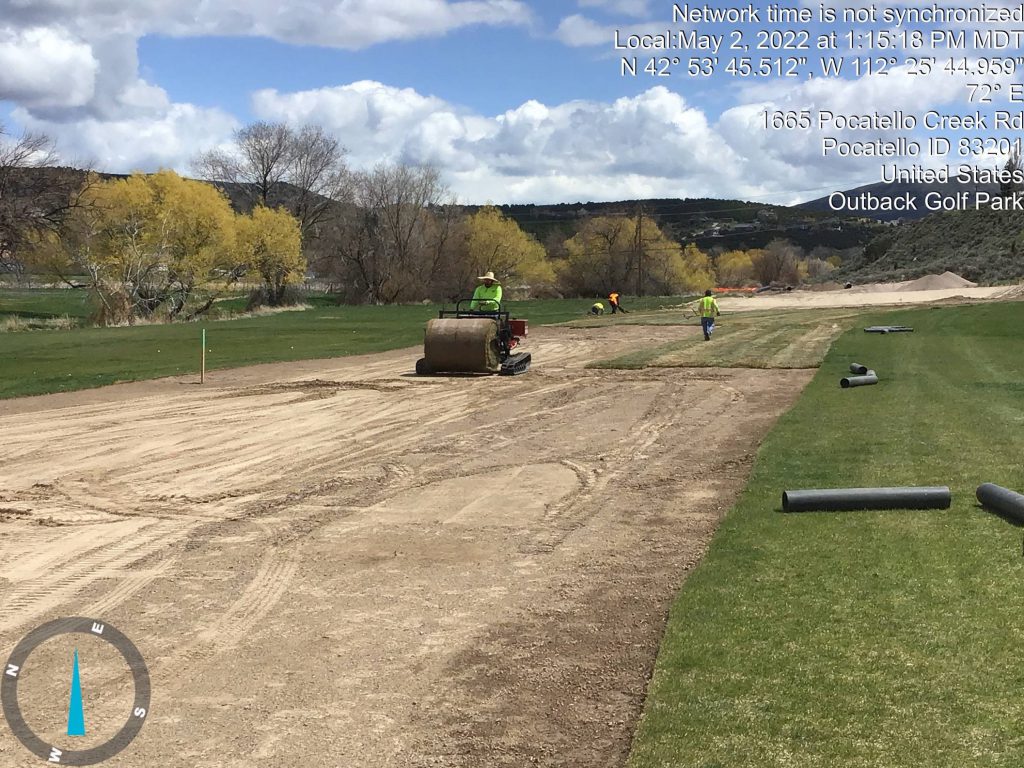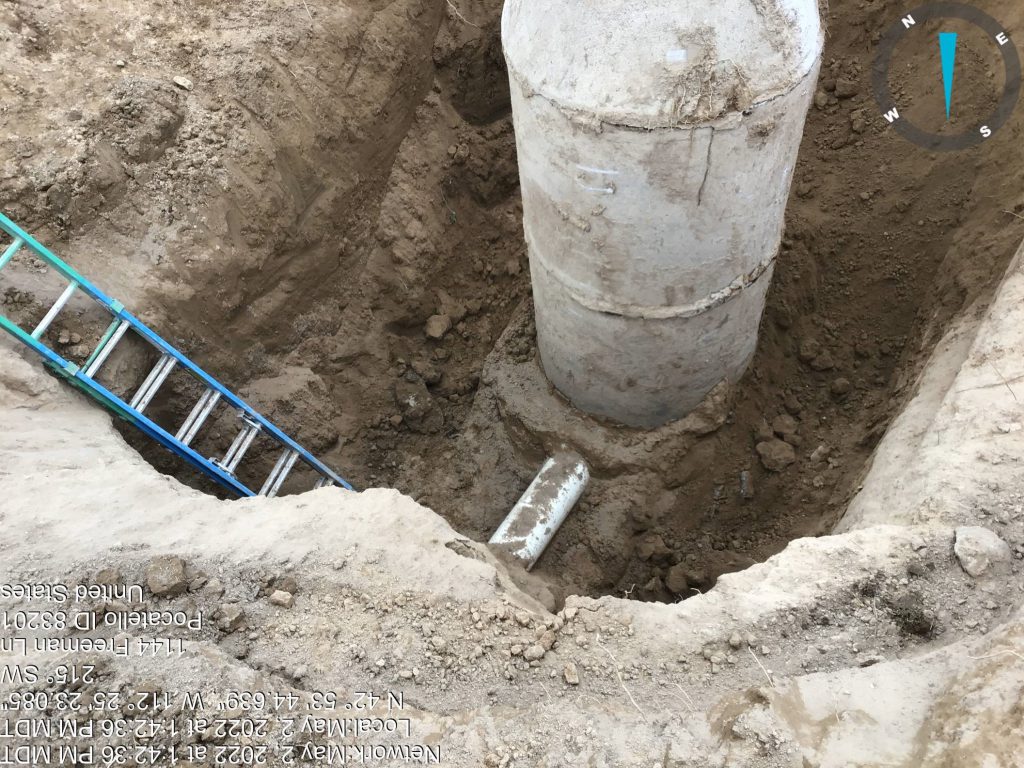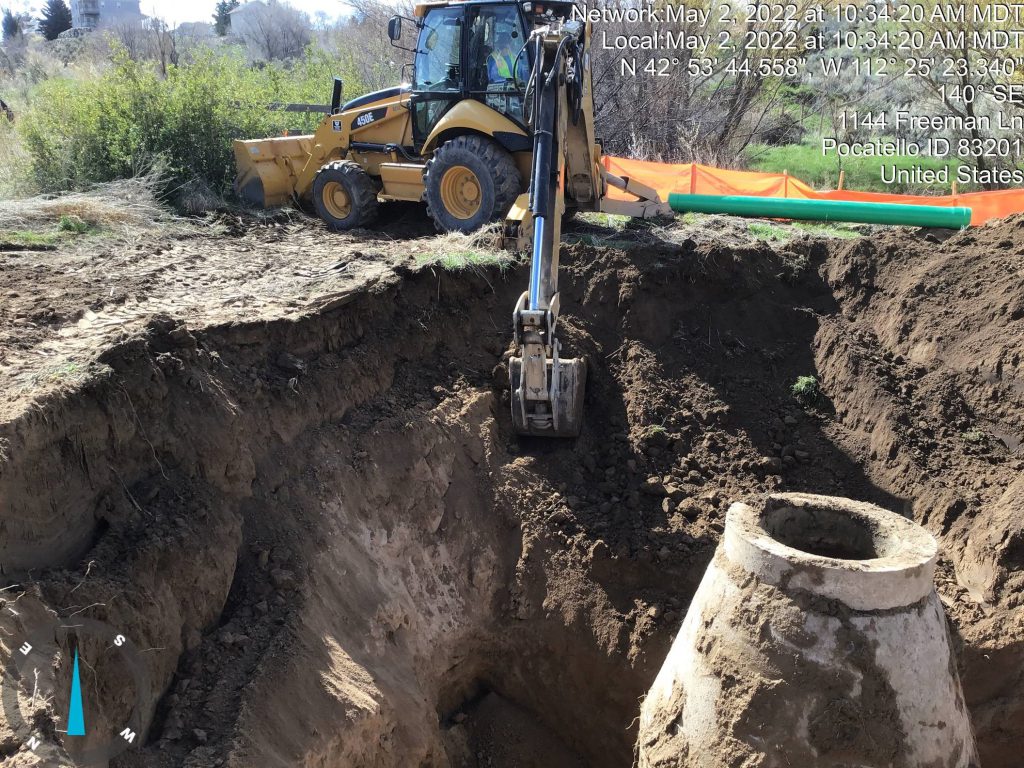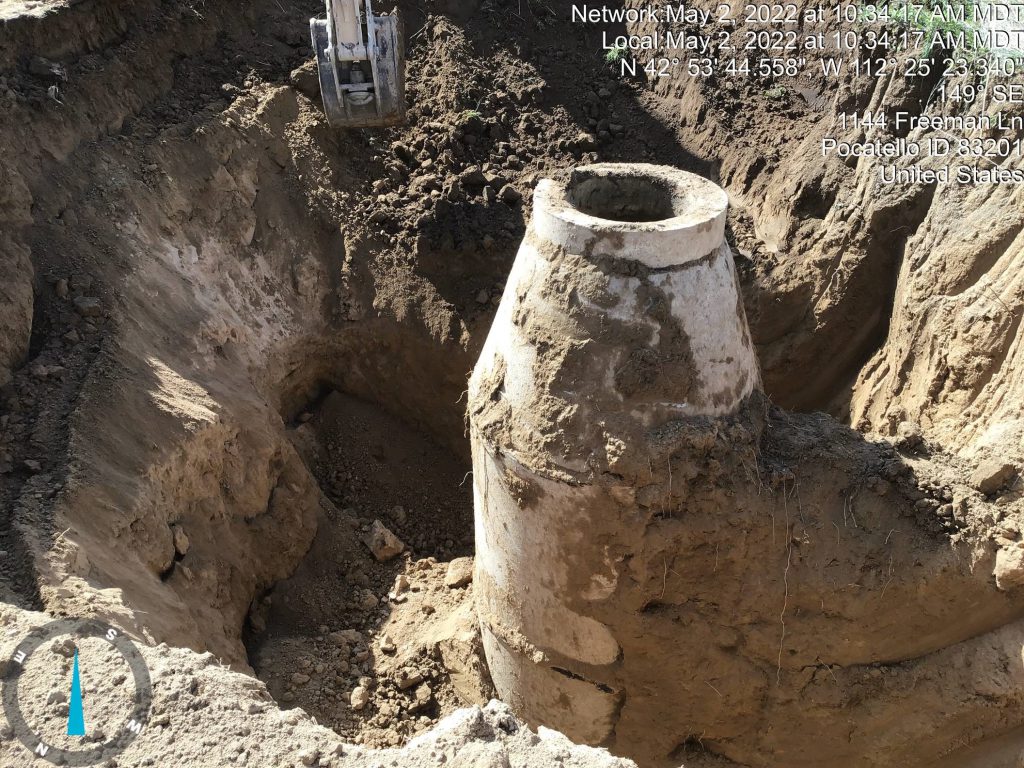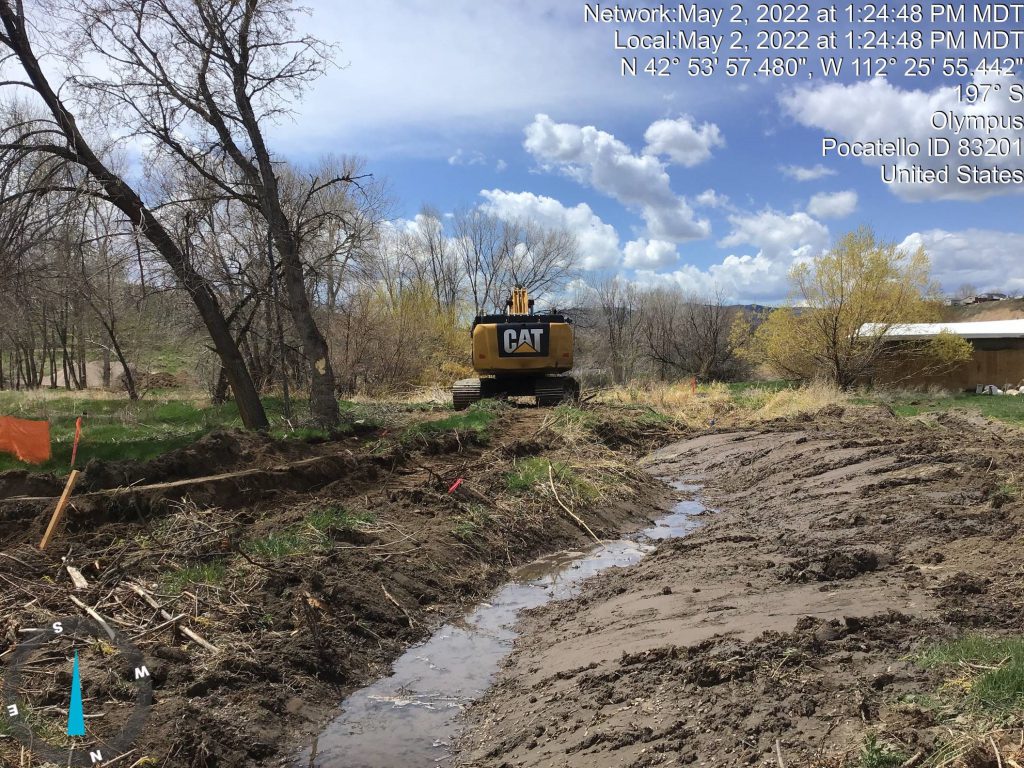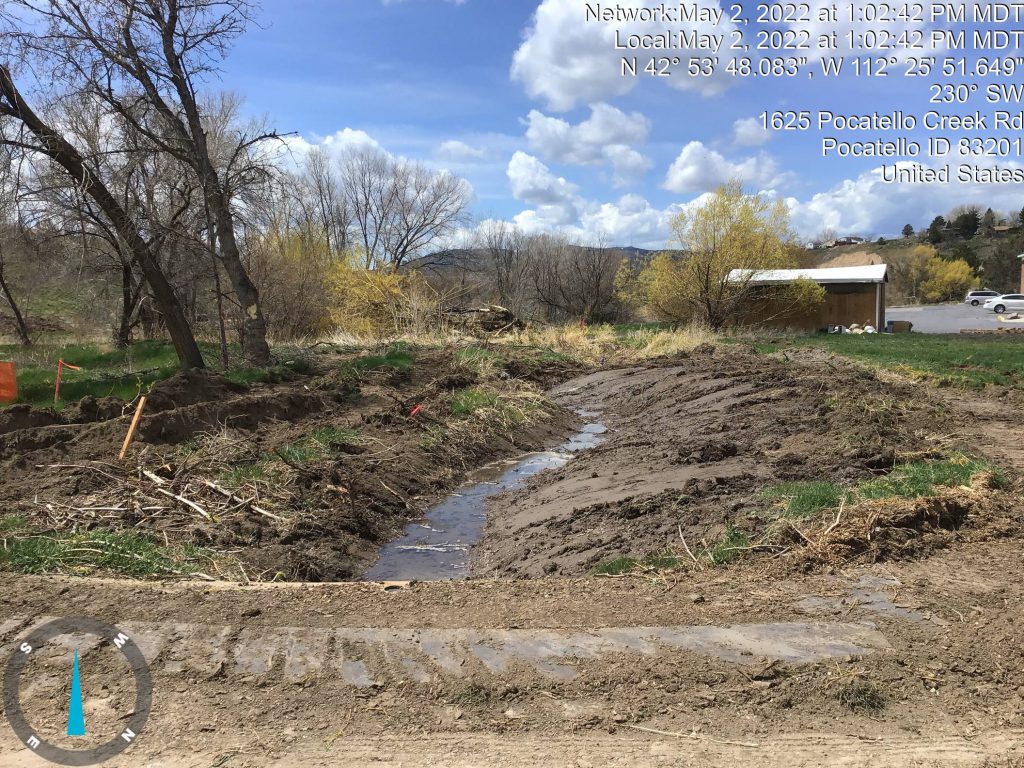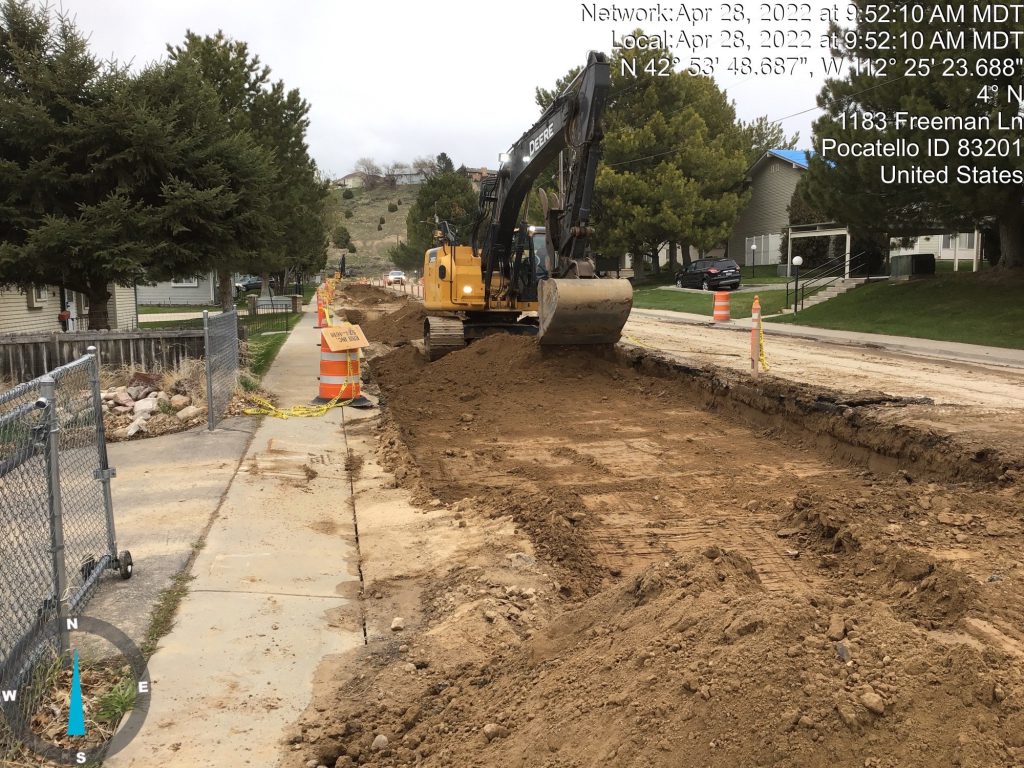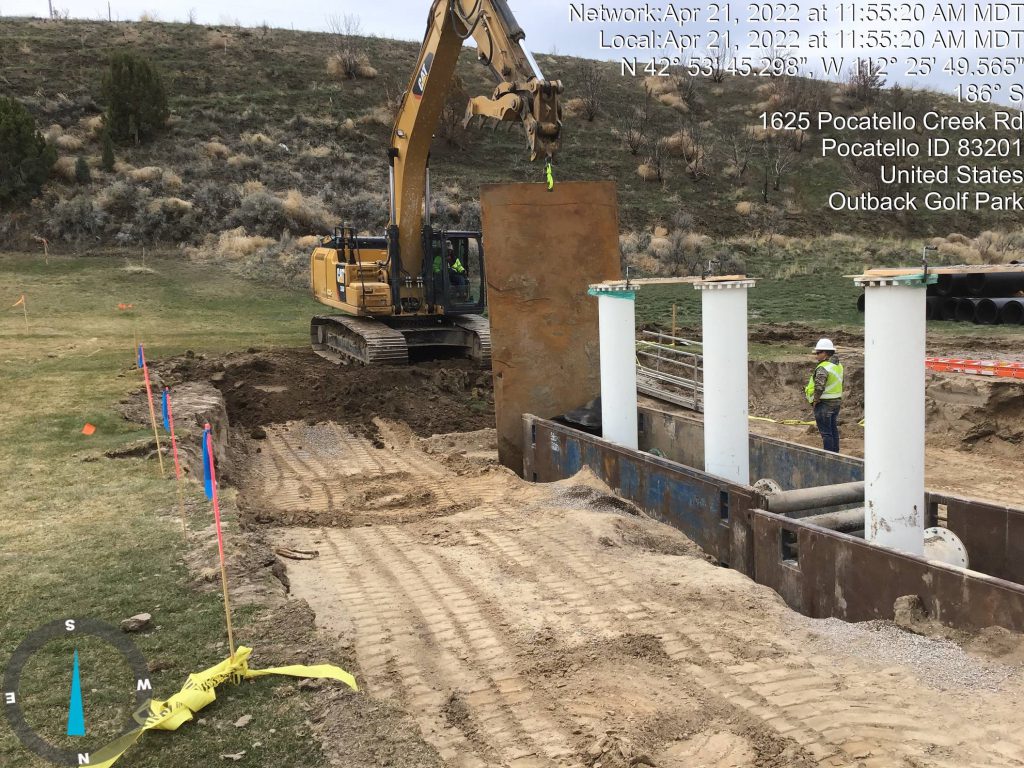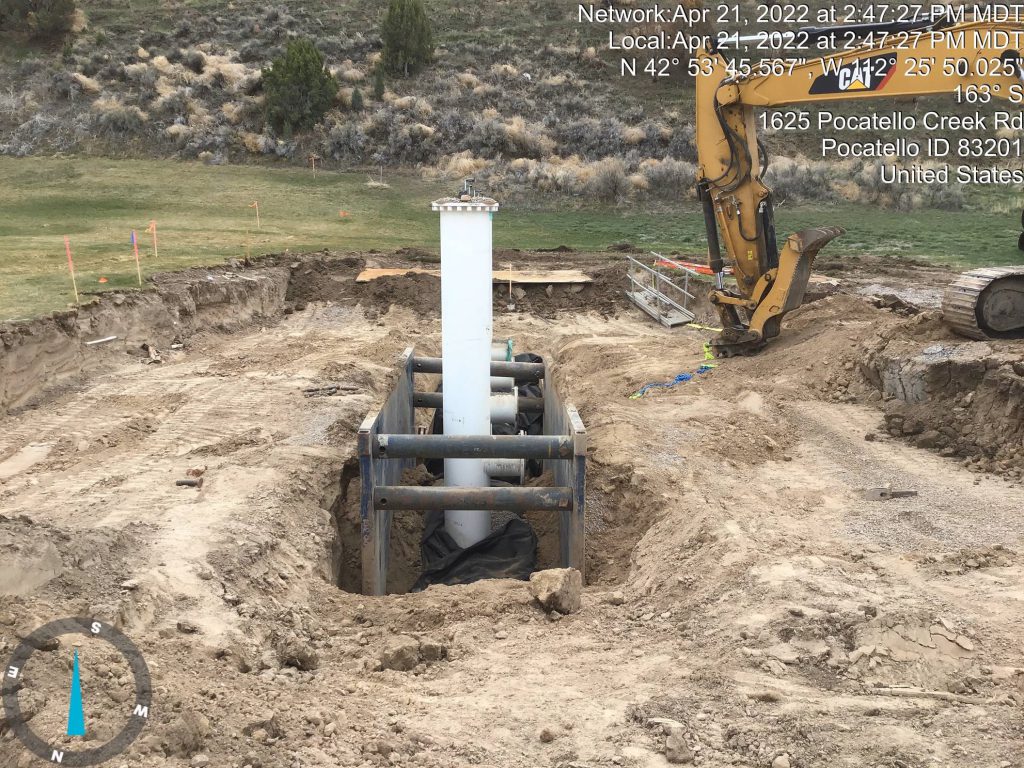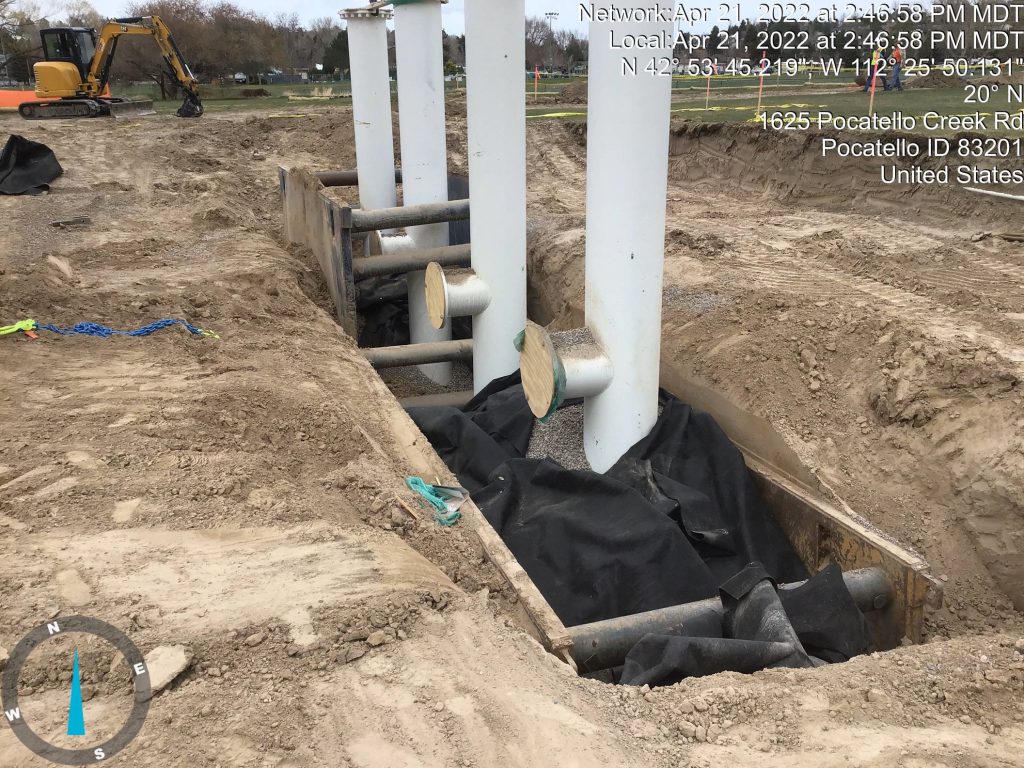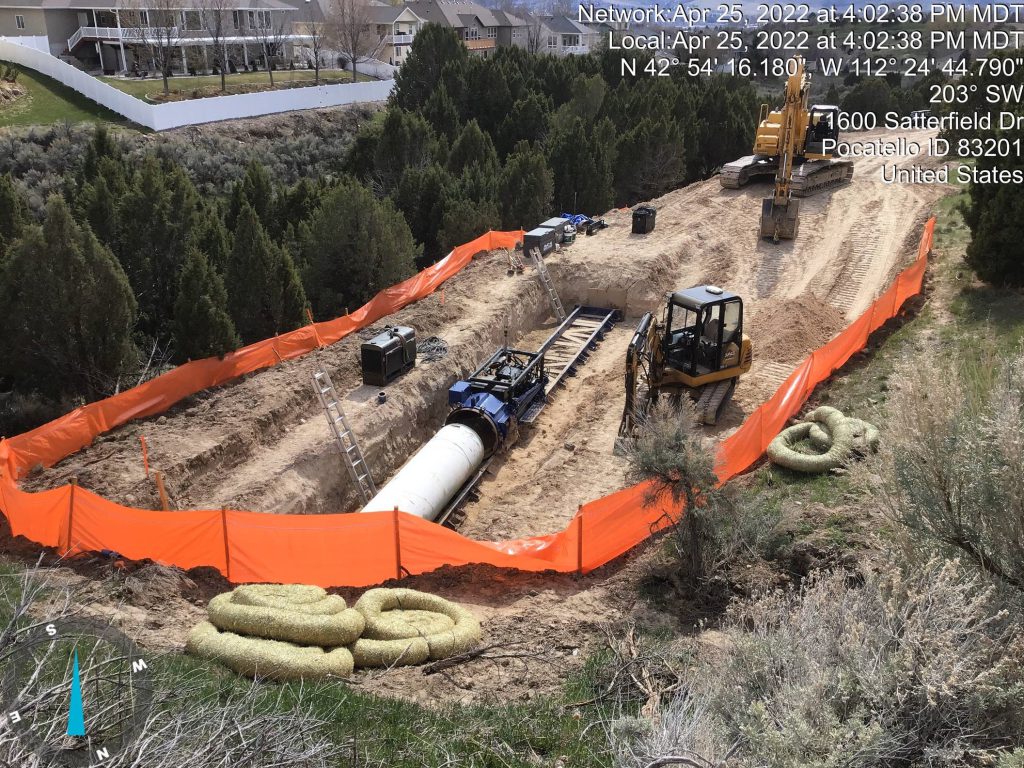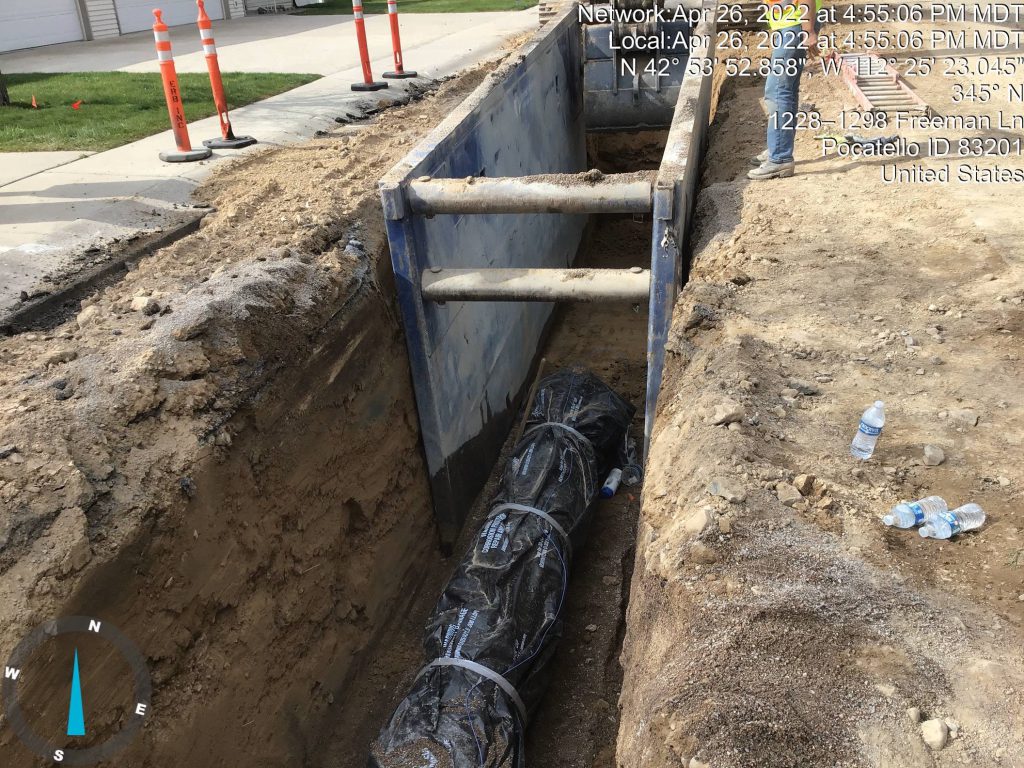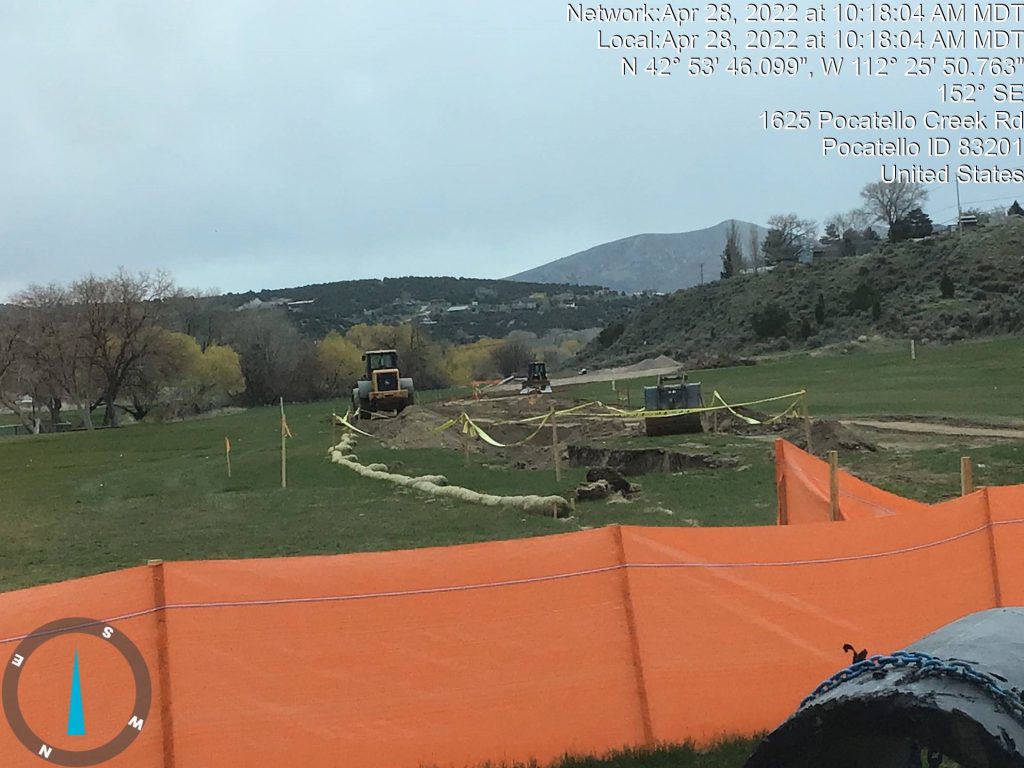 April 25, 2022
Contractor has completed approximately 2,500 ft. of pipe installation, one cased jack & bore crossing, and placement of the booster station pump cans. Ongoing efforts include pipe installation at Freeman Lane, jack & bore of cased crossing of Summit Dr., booster station below grade pipe and foundations, and HDPE pipe preparation.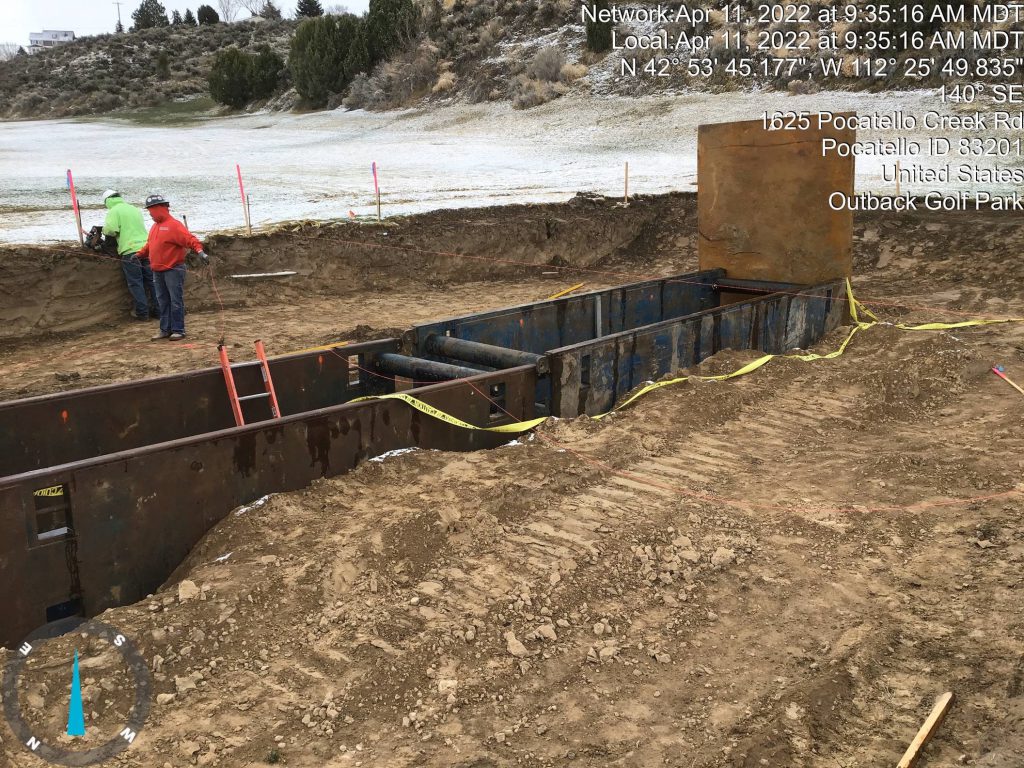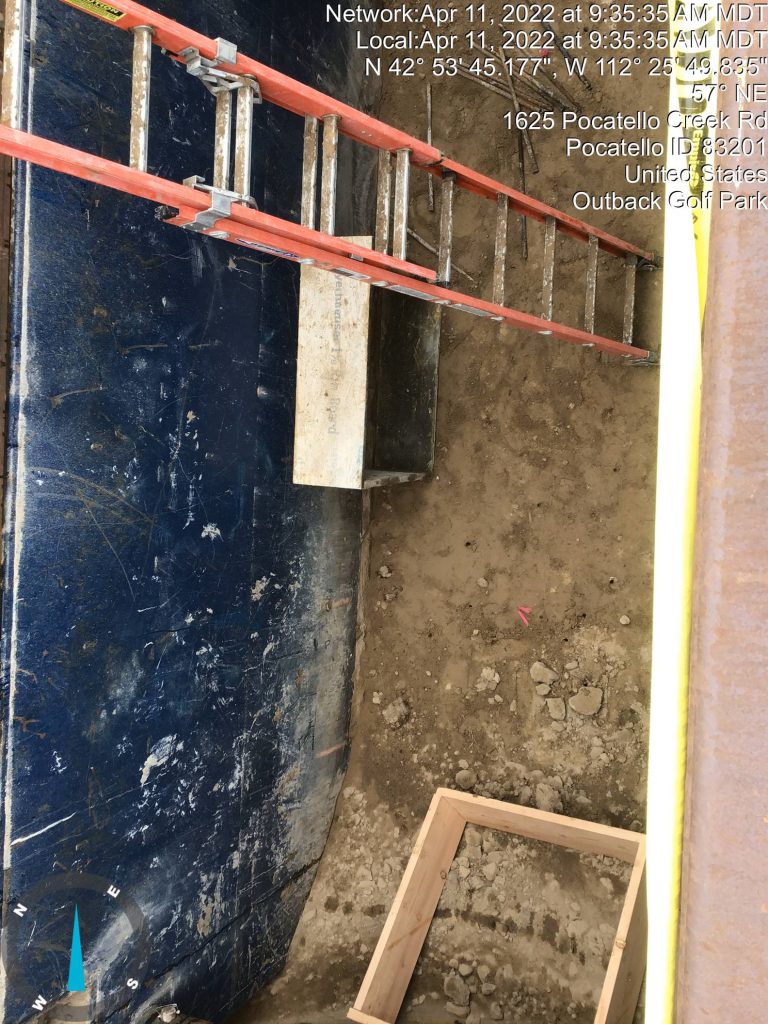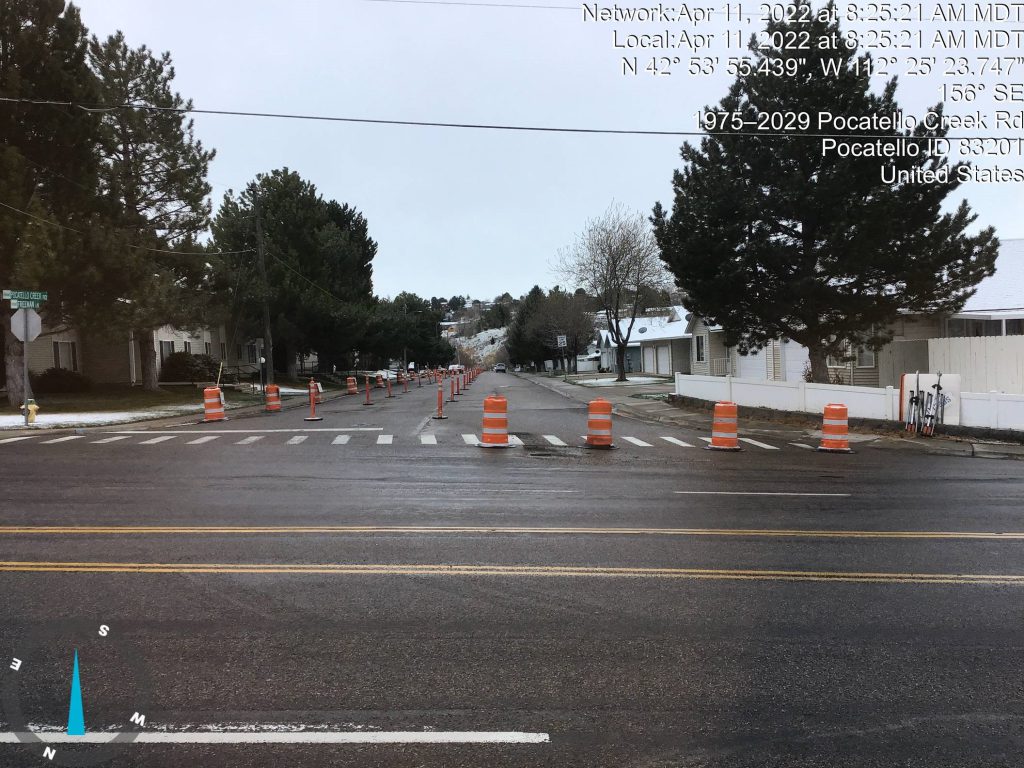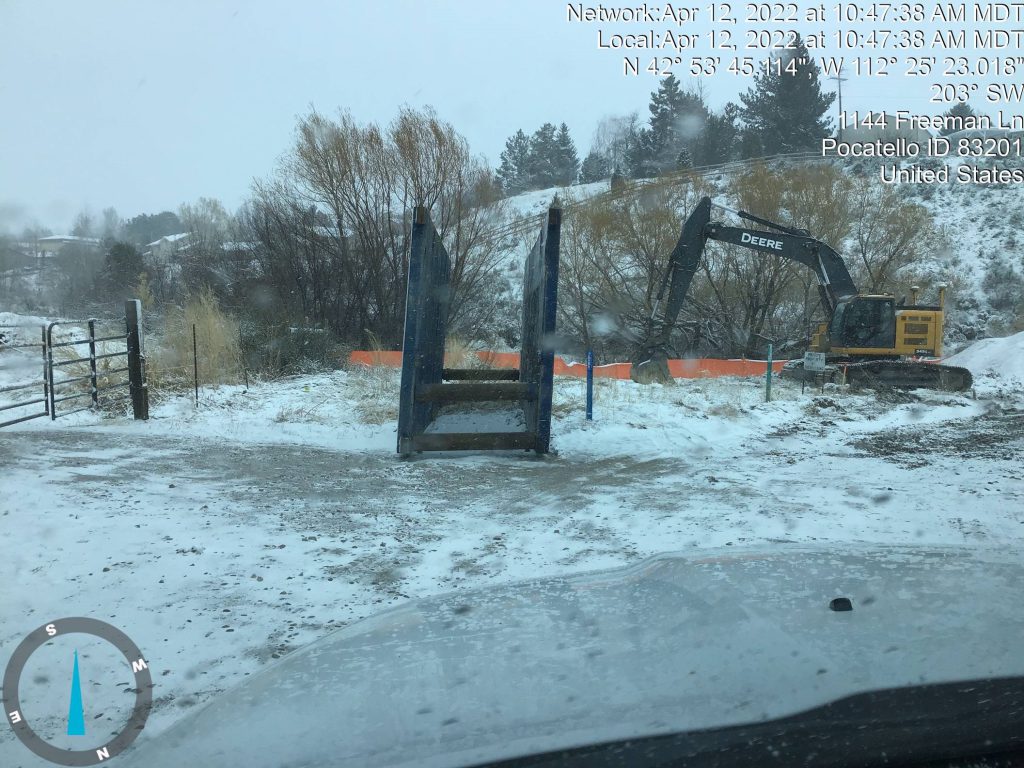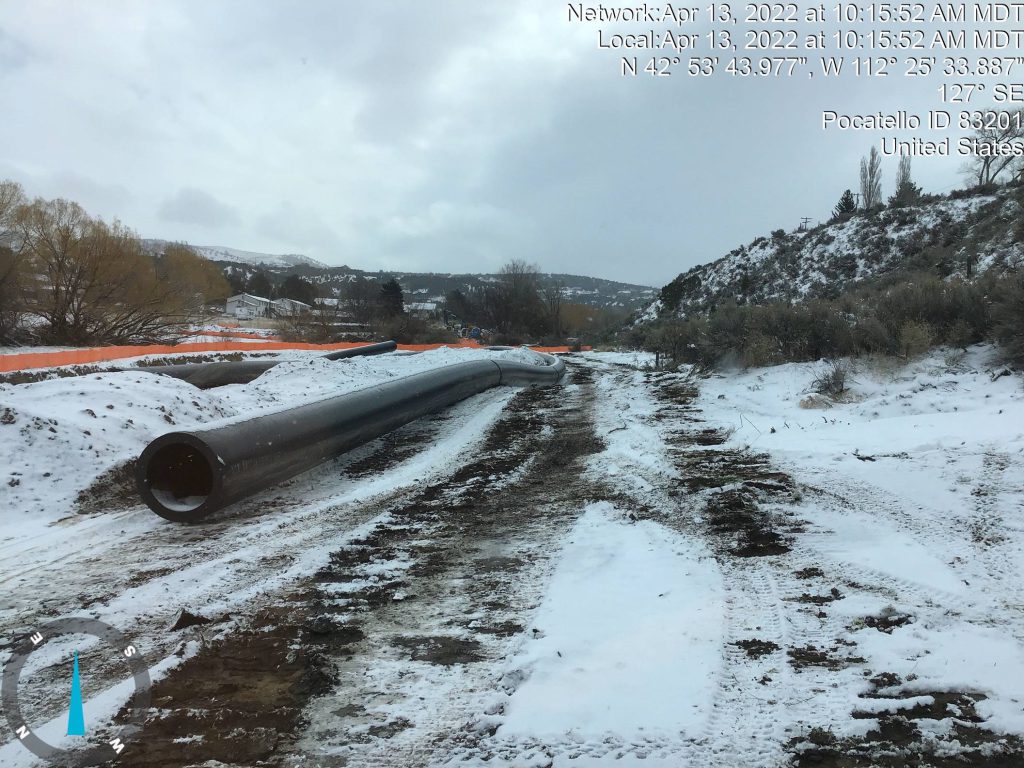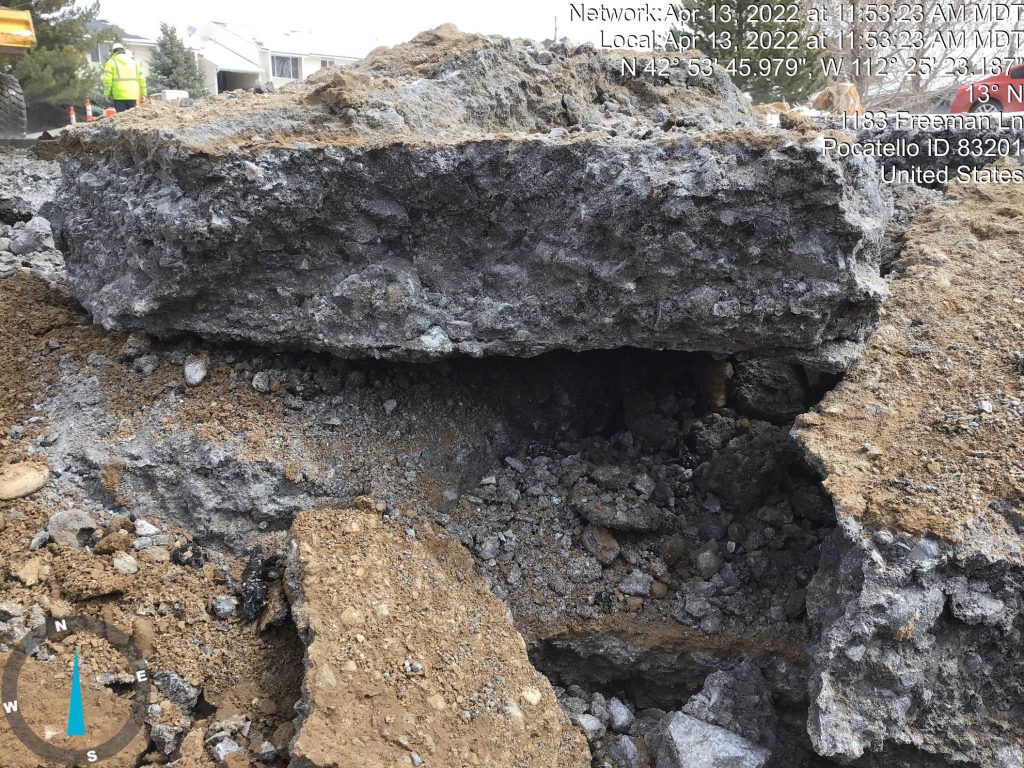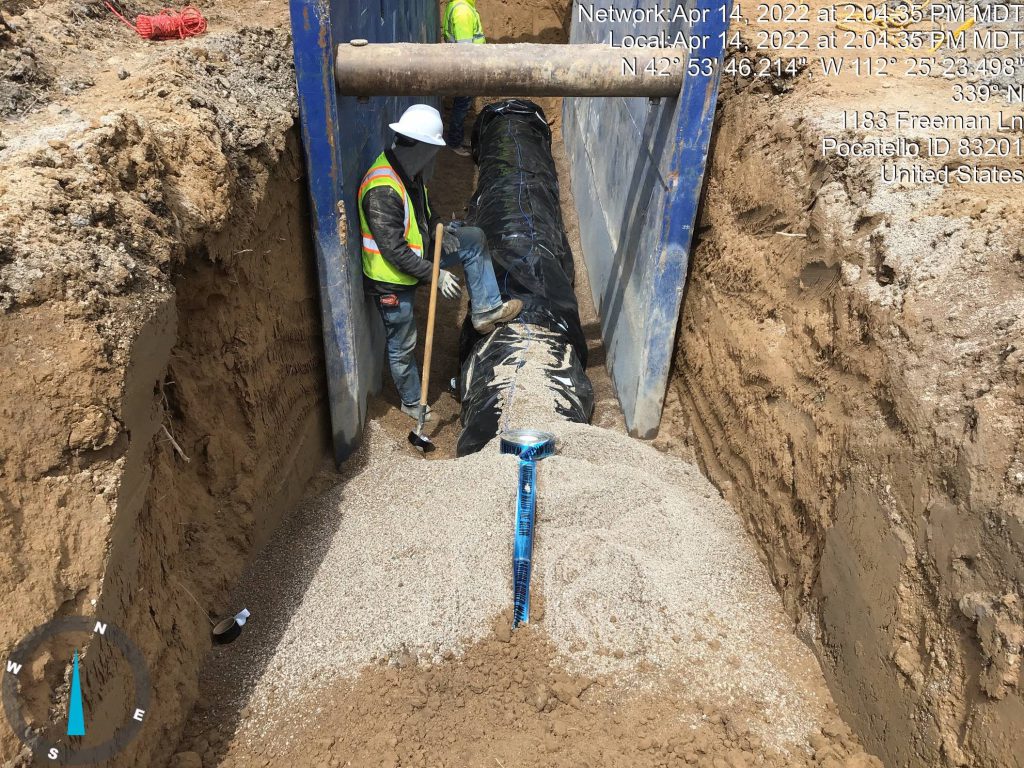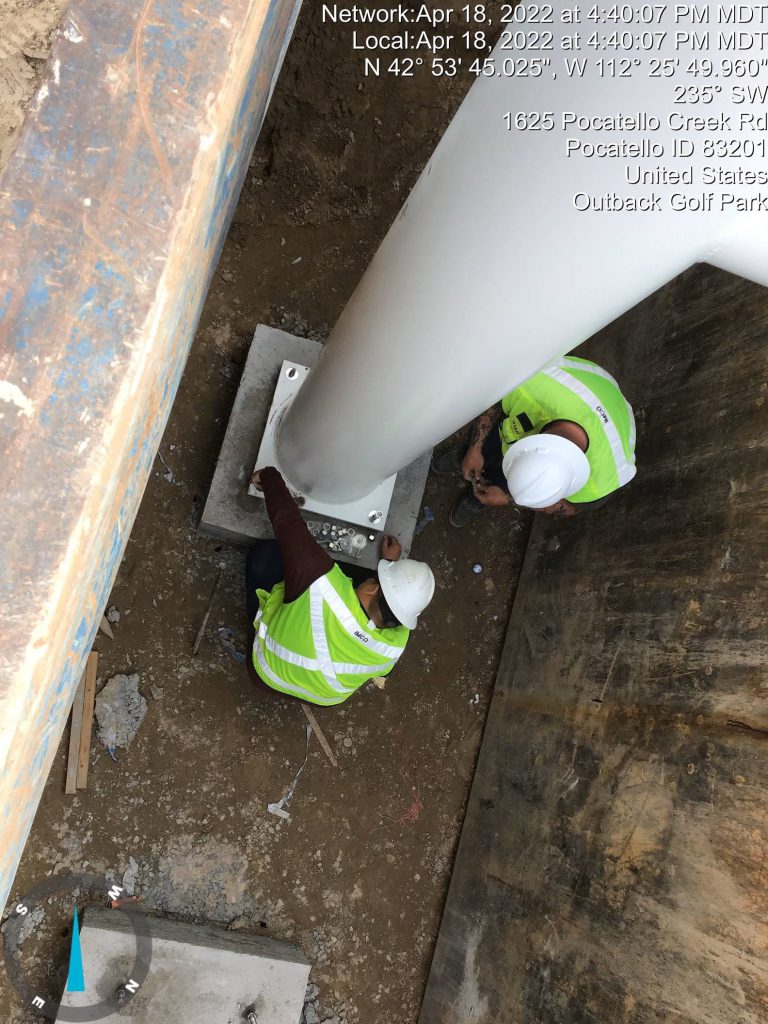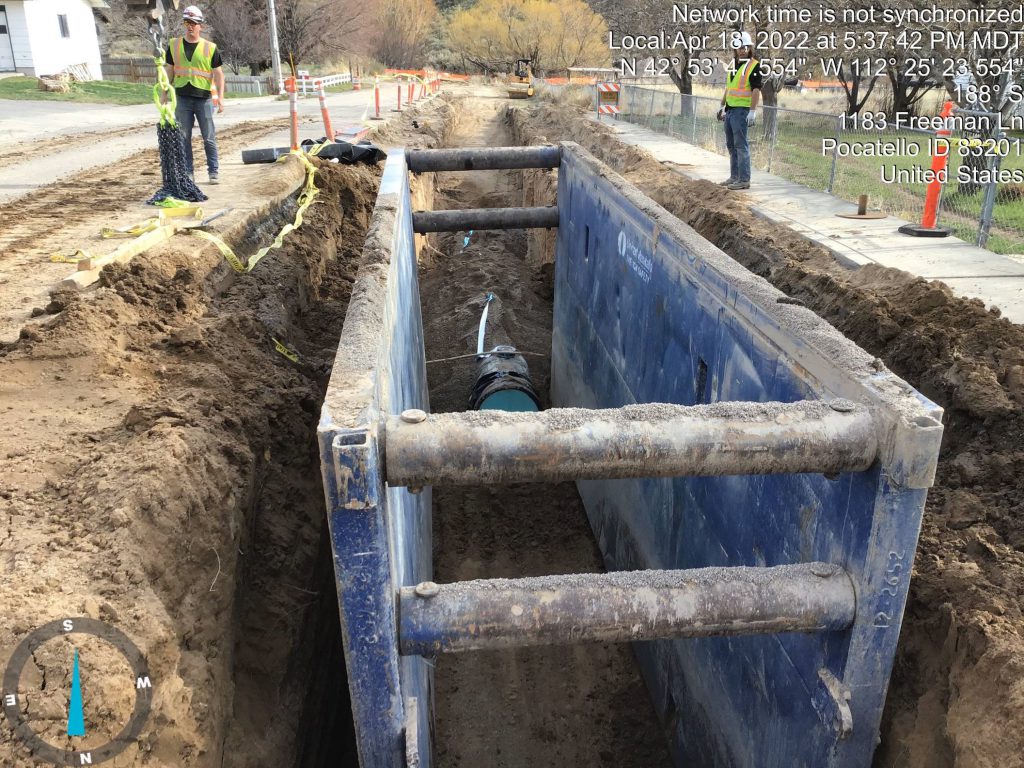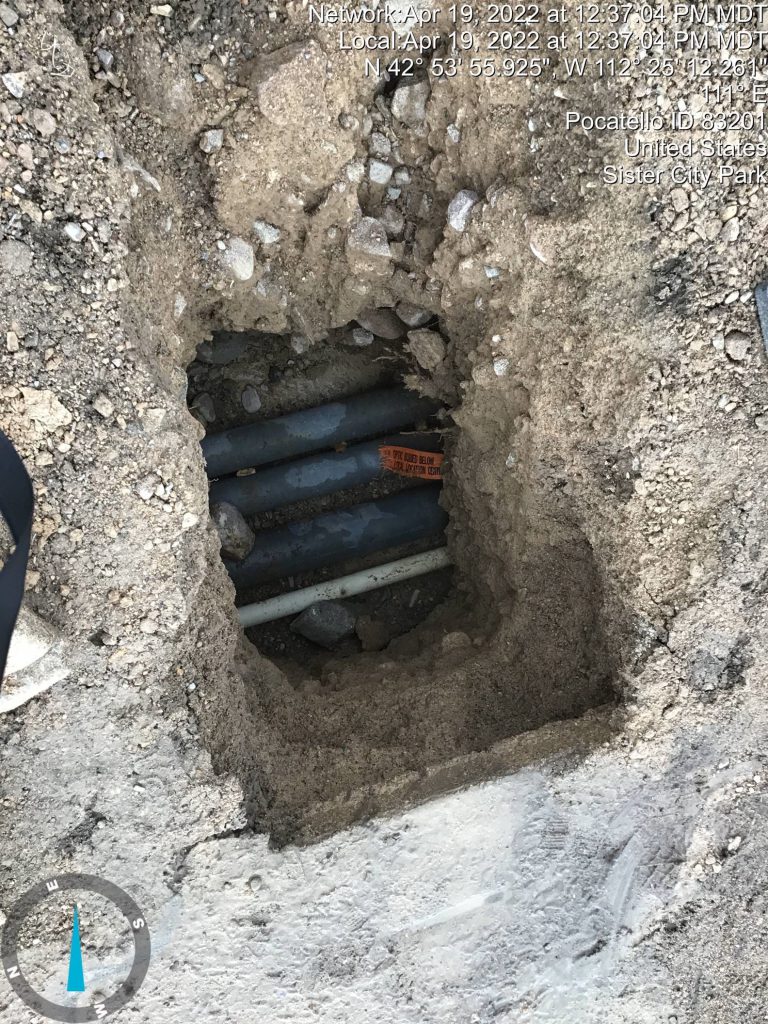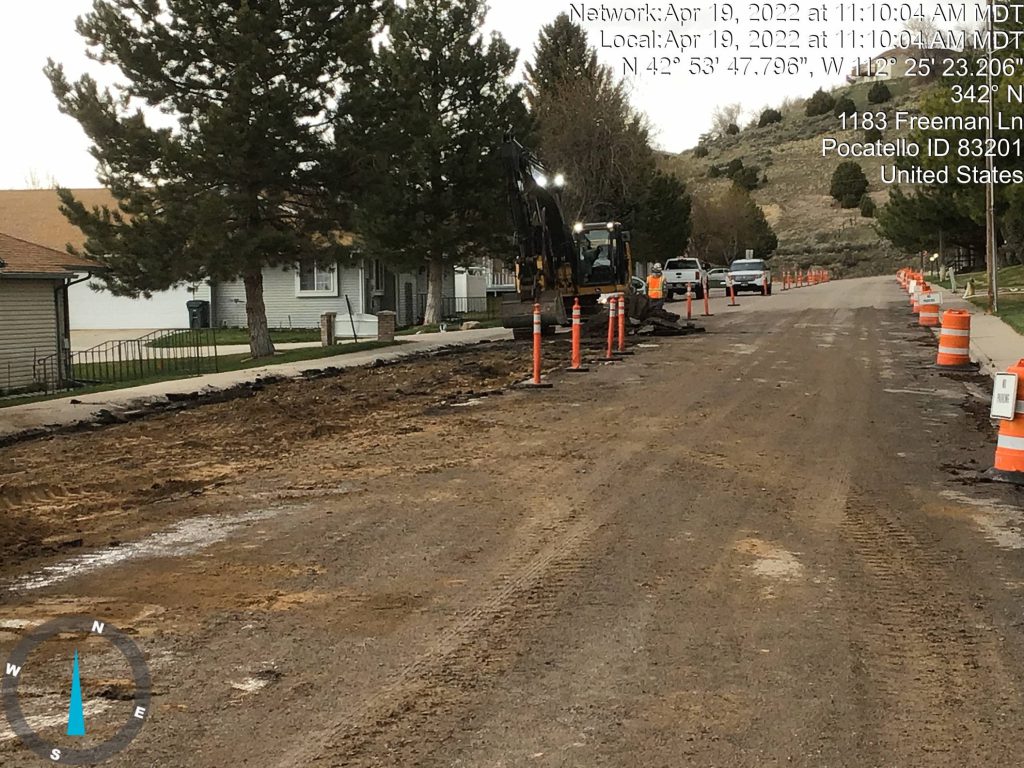 April 4, 2022
Pocatello Creek Booster Station Project continues to progress. The contractor has completed installation of approximately 2,000 ft. of pipeline along Pocatello Creek and a 120' long 42" diameter casing pipe for a crossing of the creek. Construction will continue in the next few weeks with the booster pumping station foundation, surface restoration over installed pipe, and continuing pipe installation along Freeman Lane.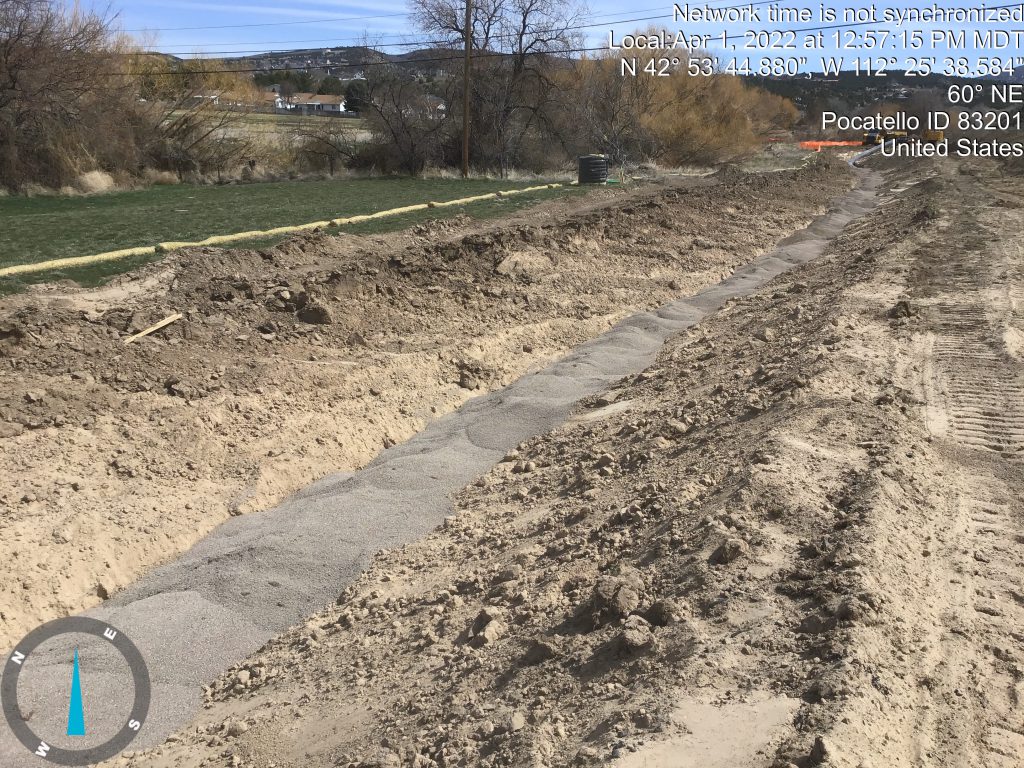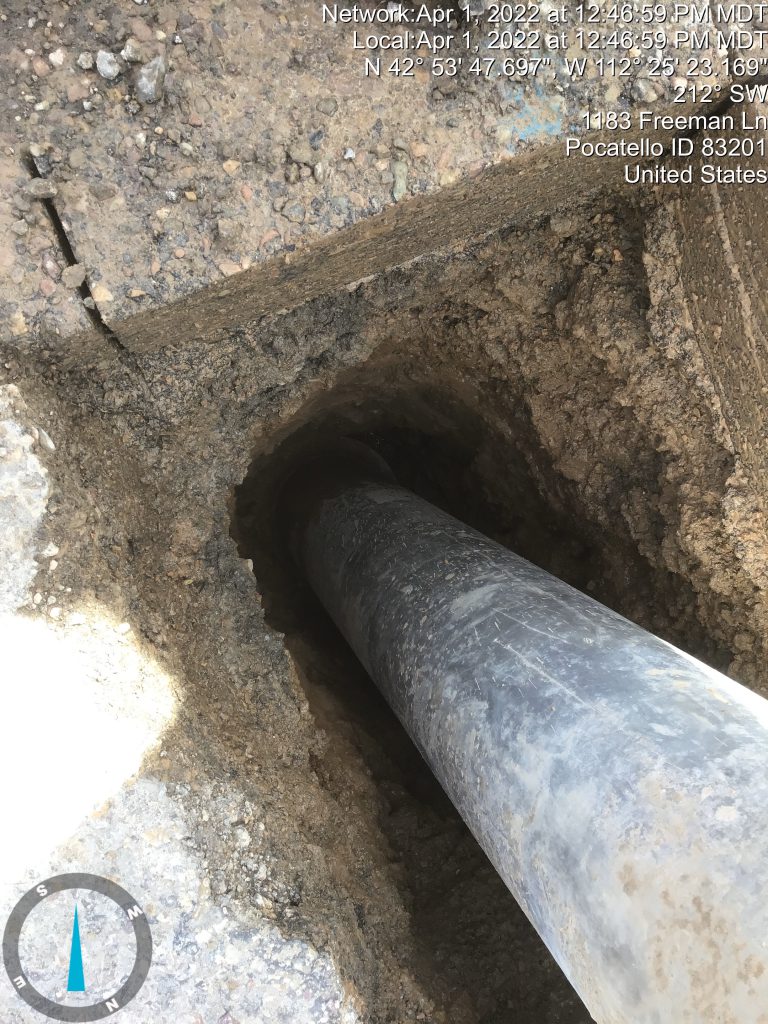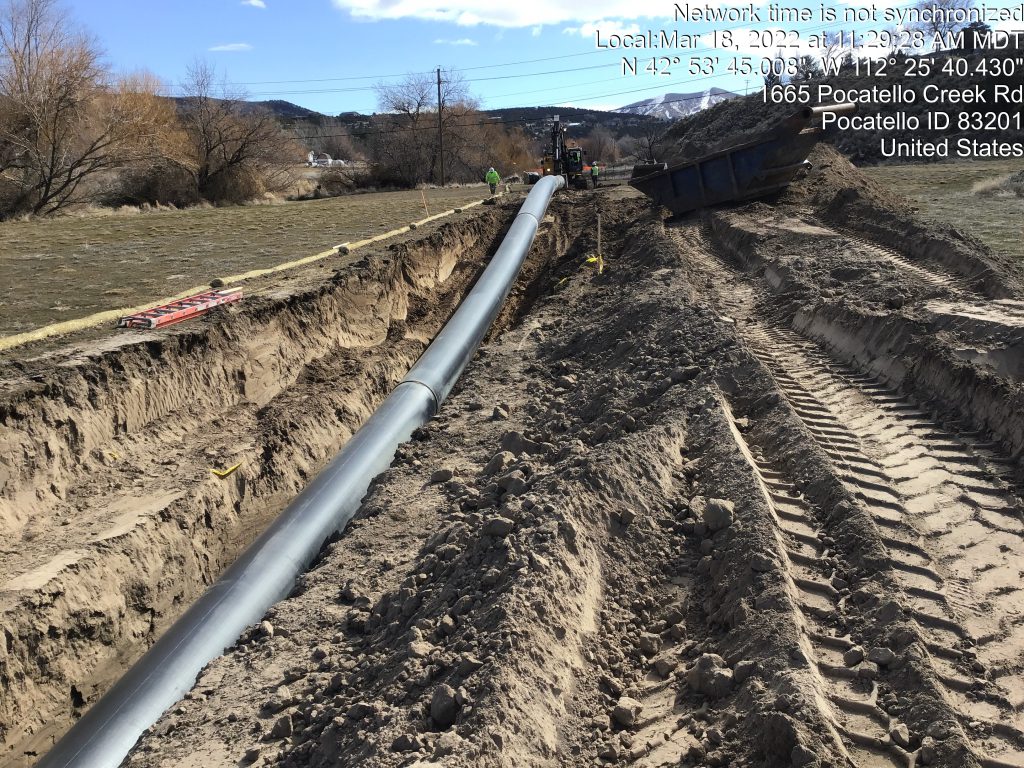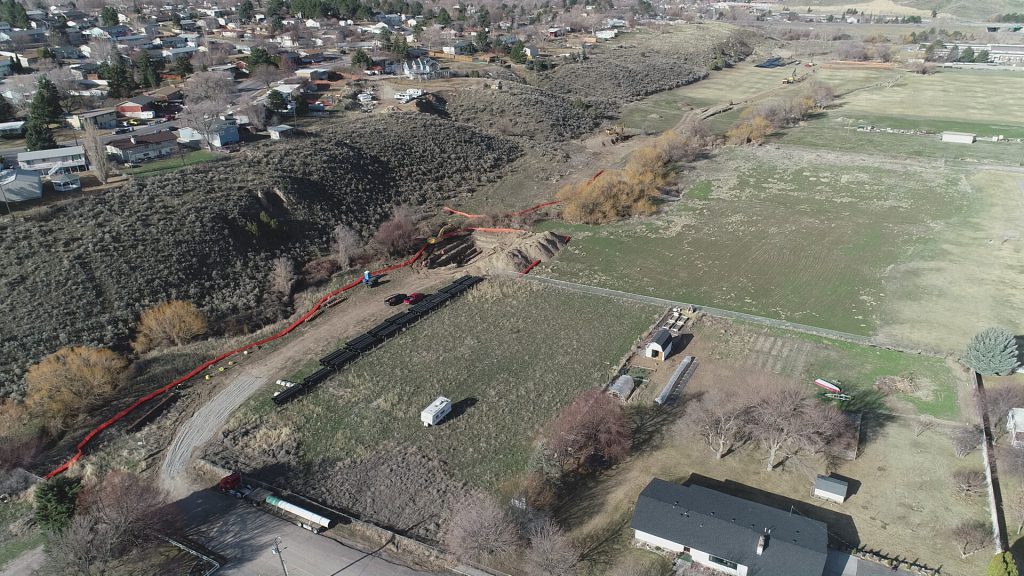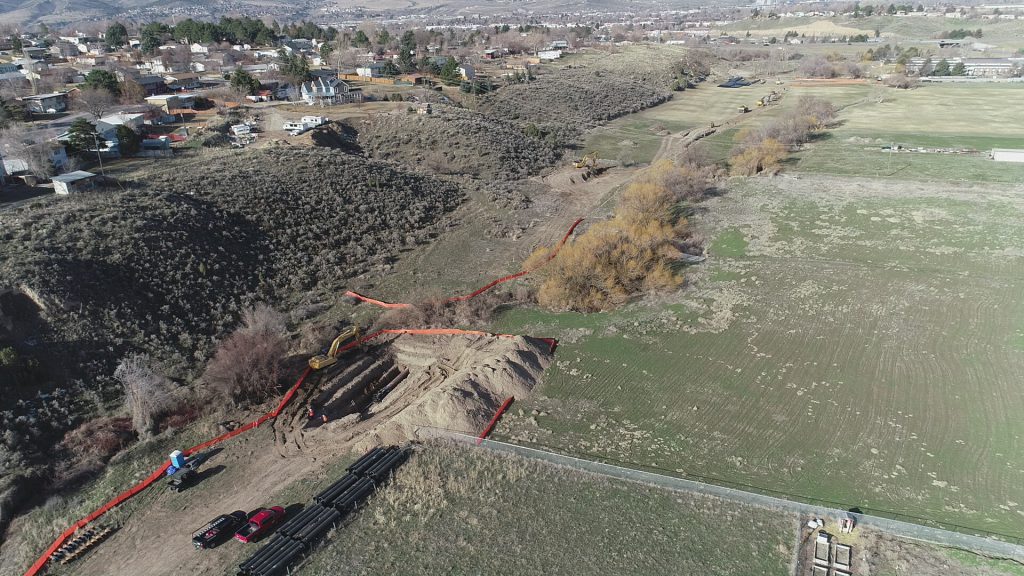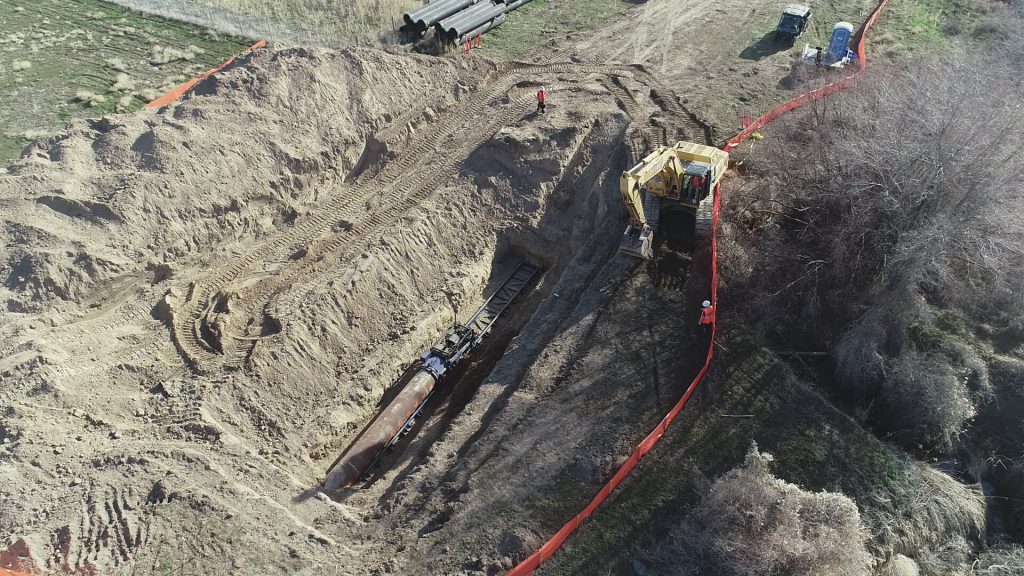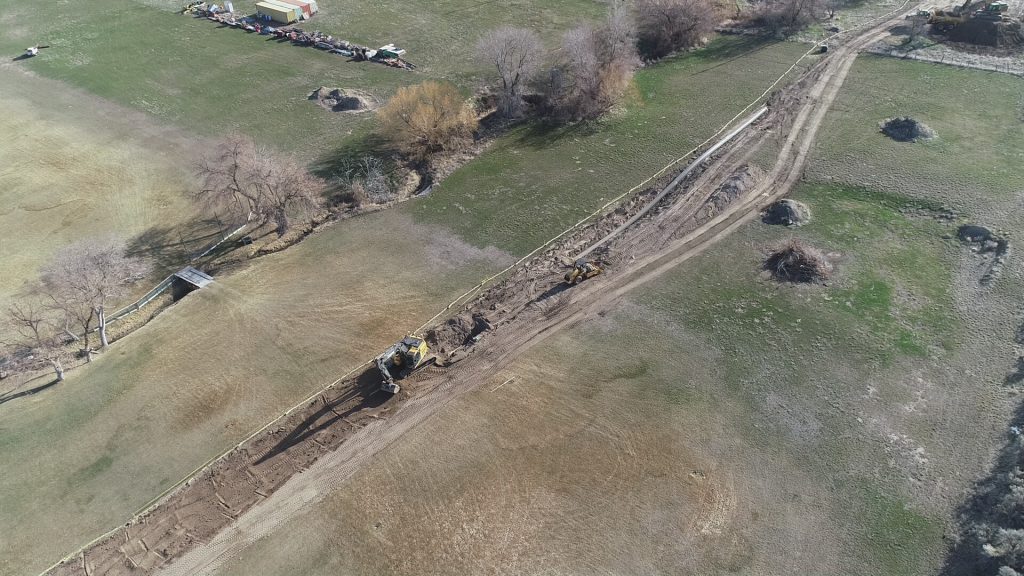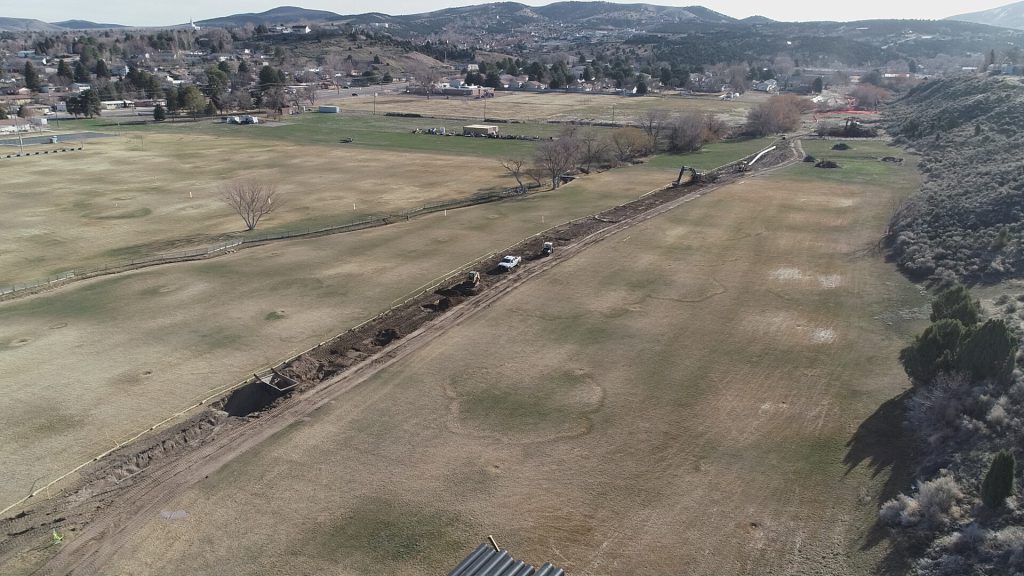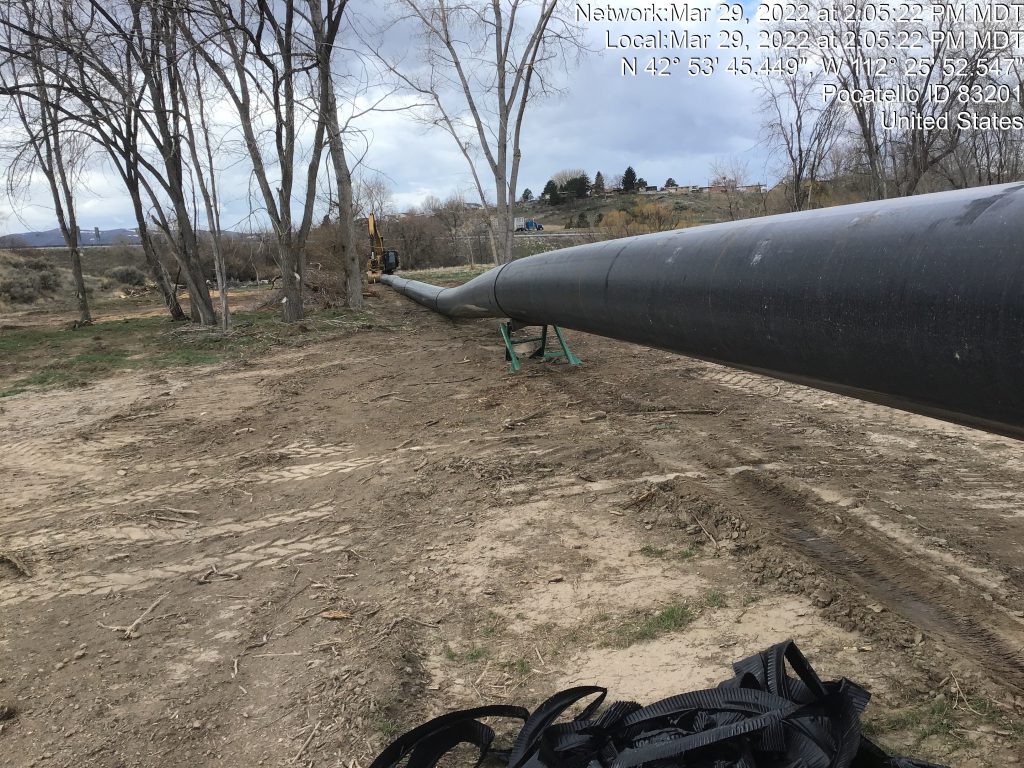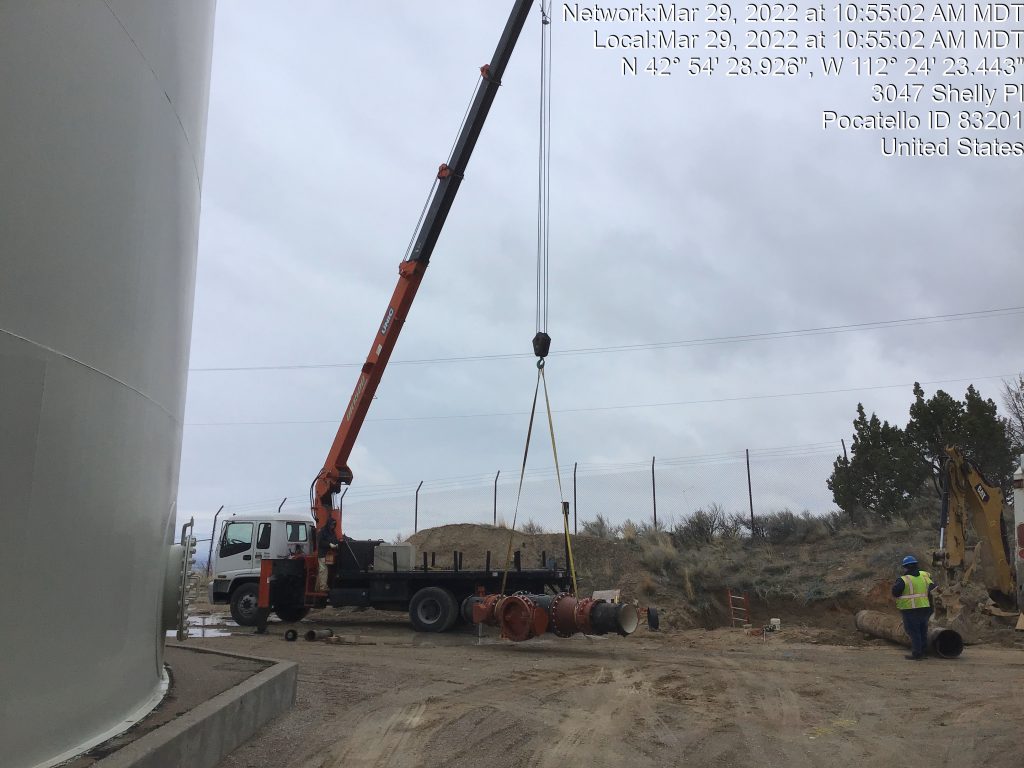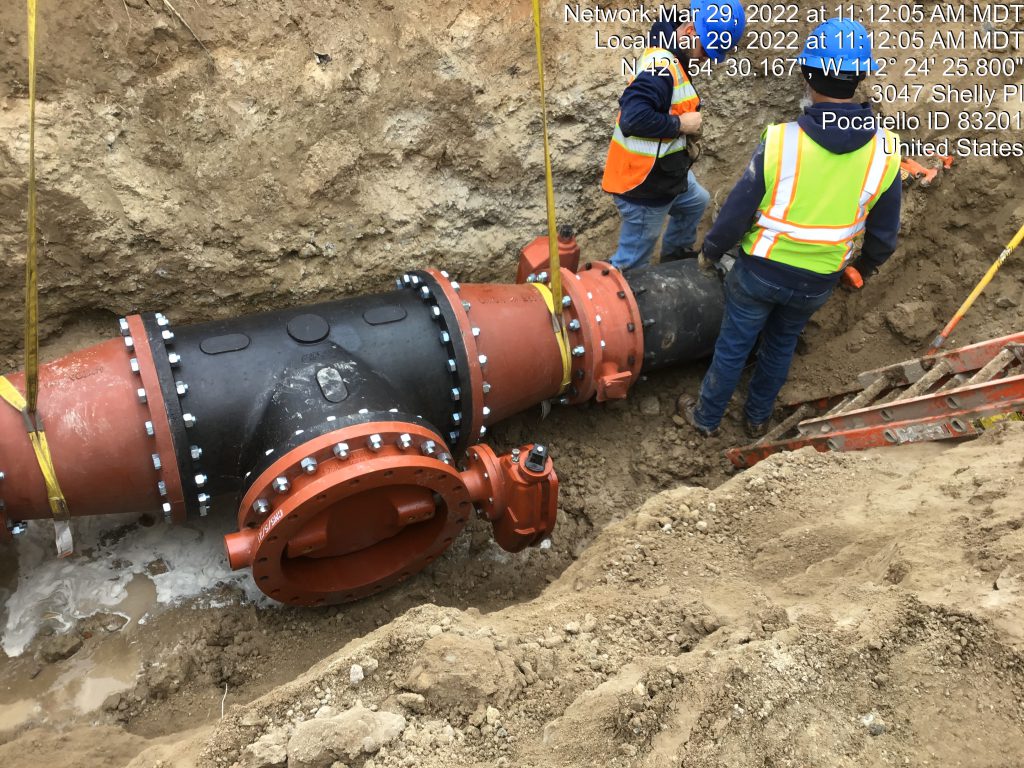 March 10, 2022
The Pocatello Creek Booster Station and transmission Line Project continues to progress. The Contractor is preparing the pipe corridor by clearing trees, grading, and installing erosion control measures. Materials delivery is ongoing and the pipe installation will be starting shortly.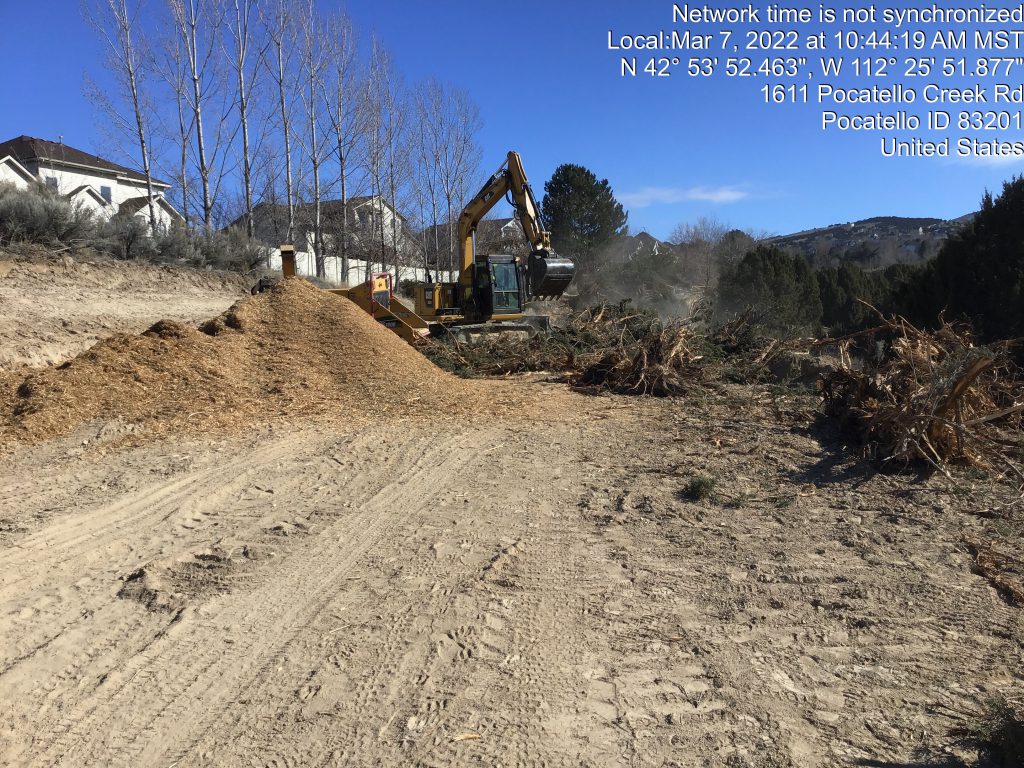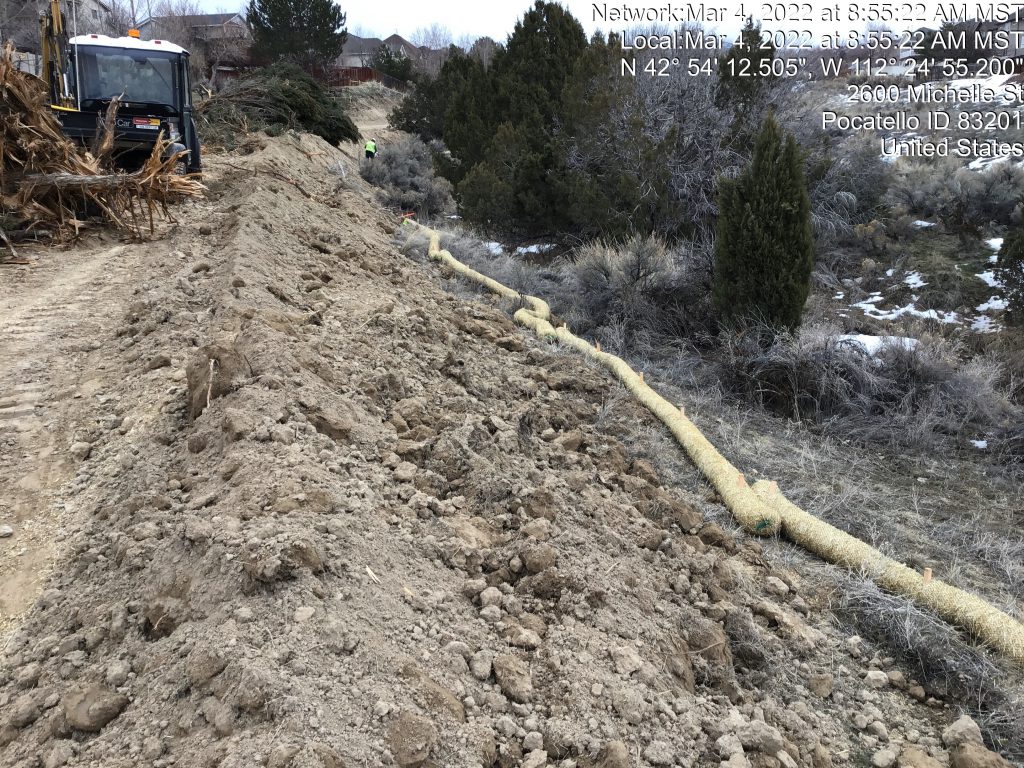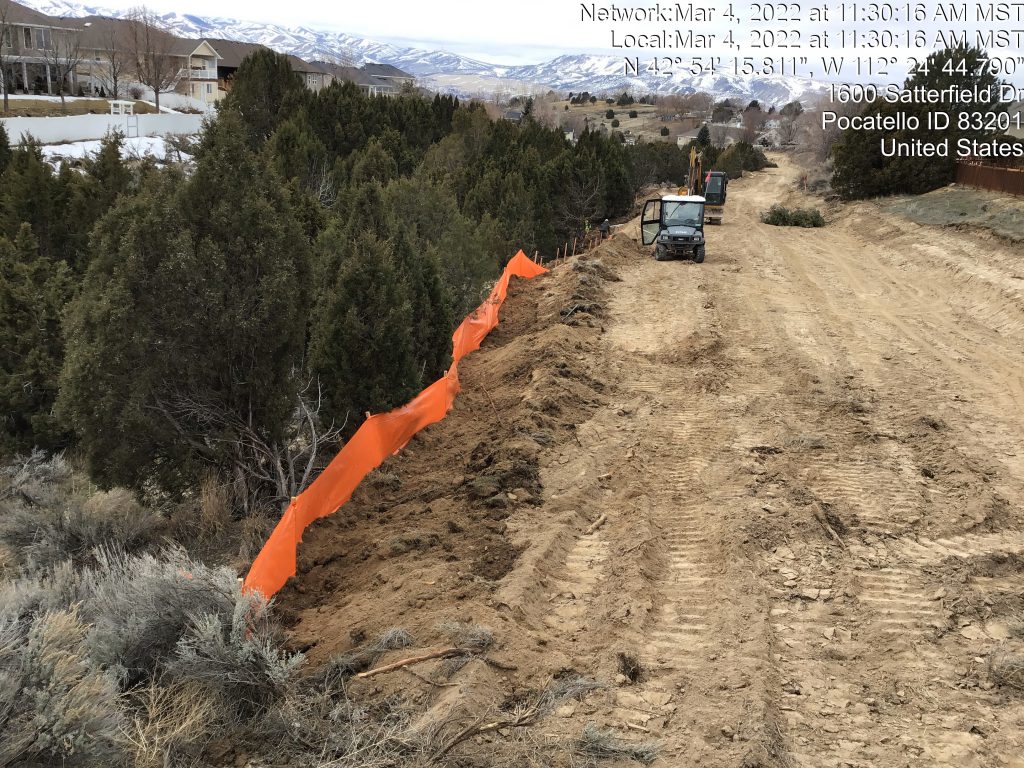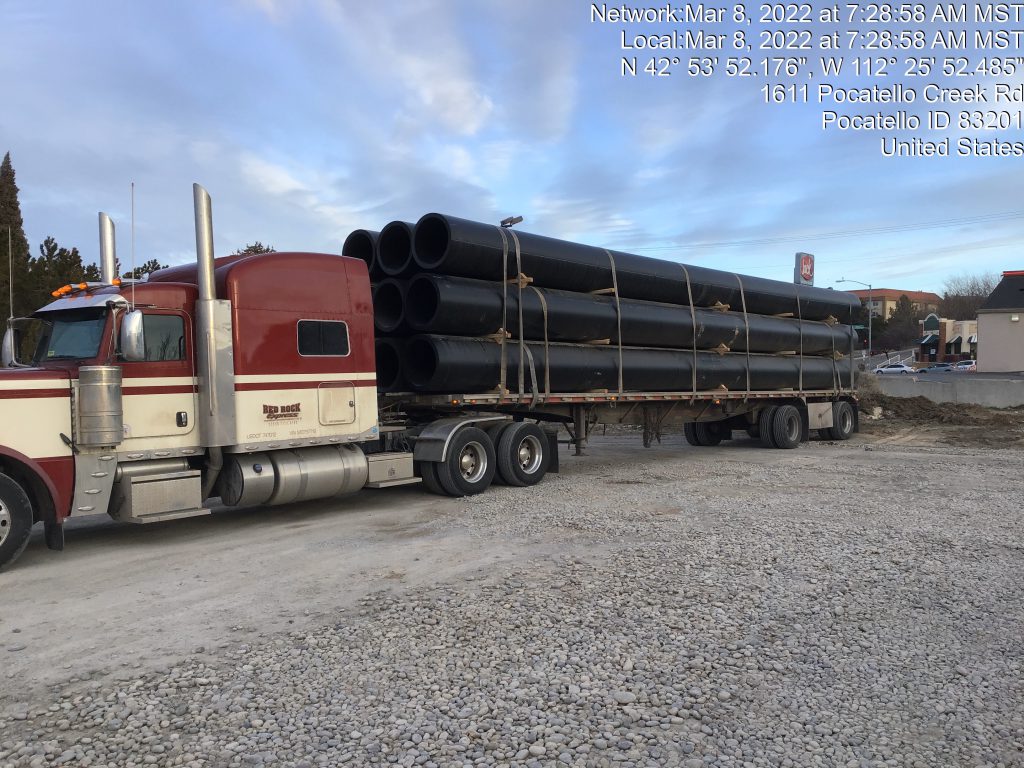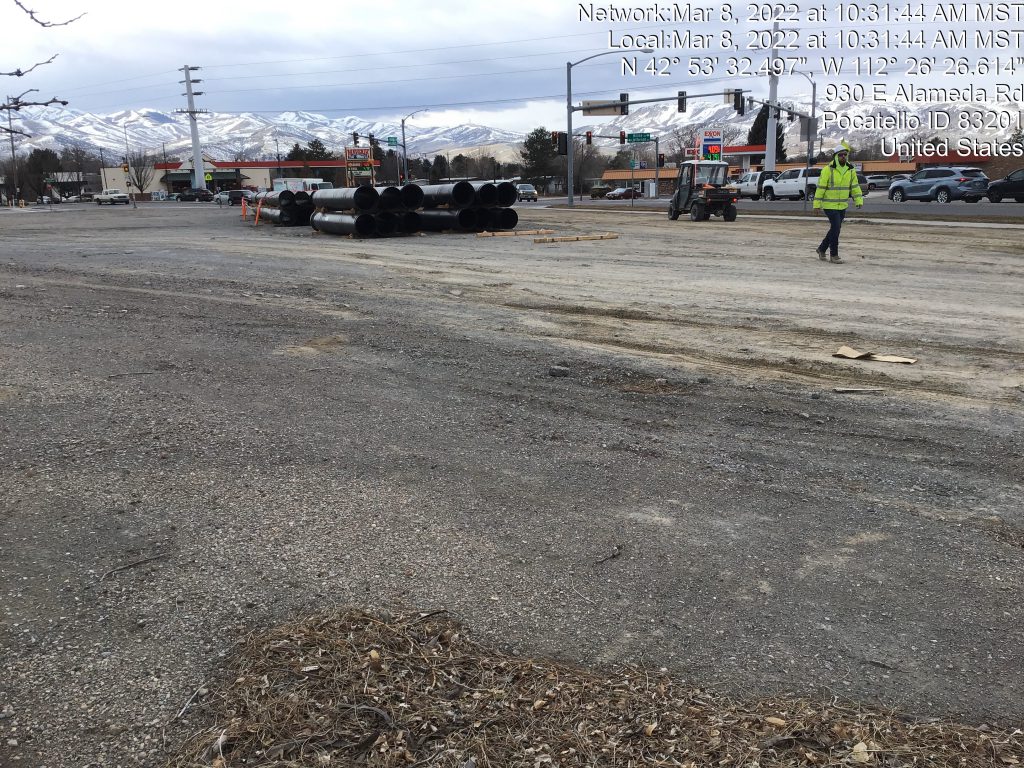 February 10, 2022
Planning studies have identified that the existing Spaulding Booster Station will have inadequate pumping capacity to provide the required supply of water for the near-term growth projections of the Highland Bench area. A water supply alternatives evaluation for the Highland Bench area completed in 2019 identified the Pocatello Creek Booster Station and Transmission Line project as the best alternative to address this need. The project also provides opportunities to create system redundancy and options for expansion of the facility to accommodate future water demands.
The project consists of the construction of a new booster pump station and 12,000 linear feet of waterline ranging from 24 to 30 inches in size. The booster station will have three (3) 250-hp booster pumps with a pumping capacity of approximately 2,000 gpm each and the allowable space for a fourth pump for future increased pumping capacity. The station also includes pressure tanks for surge mitigation for both the suction and discharge lines and a backup generator for emergency power. The pipeline will require several trenchless crossings of both Pocatello Creek and I-15. The project route has been identified to minimize public impacts to traffic and business operations and maintaining the lowest cost of identified alternatives. The project has an expected duration of 18 months and will be funded with Water Department capital reserves.